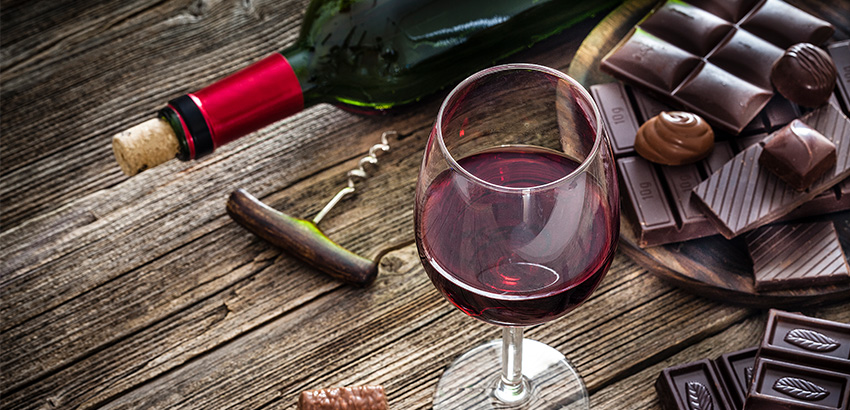 Pairings for Dark, Bittersweet and Semisweet chocolate:
The strong flavours of dark and bittersweet chocolate can be paired with stronger red wines. While some of the wines may seem too tannic to pair with chocolate, the cocoa butter decreases the harsh dryness of the tannins. Rich, bold red wines and Tawny fortified wines (Port) are ideal pairings for these chocolates. I have also included a fruit beer to show something different.
Lindemans Lambic Framboise Beer $11.00+ deposit 650ml :– 375ml $7.00 + deposit. I love the flavours of Chocolate and Raspberry together. Add the bright acidity and effervescence of a good Lambic beer and this could become an addiction.
Phillips Longboat Chocolate Porter $6.00 + deposit: Even the names suggest they should be a great match; Chocolate Porter and dark chocolate. A rich and satisfying experience.
Penfolds Club (fortified "Tawny " style) $24.00+ deposit: Now available at Liquor Plus, Australia's favourite Tawny. The rich, nutty, raisin and spice character of this great Tawny is a classic pairing with dark chocolate and for good reasons. The finish is long and lingering. Yum!
Lopez De Haro Rioja $19.00+ deposit: The beautiful aromas and flavours of dark berries, toasty oak, vanilla and notes of spice and cocoa mellowed by barrel and bottle ageing are the perfect match for bittersweet chocolate.
Earthquake Zinfandel $38.00+ deposit: Strap yourself to your seat and get ready for this 16% ABV brooding monster to rock your palate. Keeping everything in balance when the alcohol hits 16% is tough to pull off but the Michael-David Winery seems to do it every time. Luscious, rich fruit with silky tannins and dark chocolate flavours lurking in the mid-palate, this seductive wine is perfect for dark chocolate and romance.

Pairings for Milk Chocolate:
Milk chocolate has a higher percentage of sugar and a smaller percentage of chocolate liquor. With all that sugar and its milk content, the result is a milder and sweeter product. Some of the flavours in milk chocolate include brown sugar, vanilla, and honey along with the milk and cream flavours. Try smooth, rich, red wines with softer tannins or soft, rich white wines:
Apothic Sweet Red Wine $17.00+ deposit: A blissful combination of Zinfandel, Merlot, Syrah and Grenache. Unctuous berry, plum cherry fruit with flavours of toffee, vanilla and creme brulee in the finish. Should be pretty good!
Ca Montebello Sangue di Giuda  $16.00+ deposit: A unique red dessert wine with hints of violets together with raspberry and blueberry jams. The slight fizz or frizzante, as the Italians call it, add to the fun of this wine. Bring on the milk chocolate.
ChocolatRouge $20.00+ deposit: Experience true decadence in a luscious blend of rich chocolate flavours and fine red wine. Made for milk chocolate lovers.
Murphy Goode Pinot Noir $18.99 + deposit (sale price till March 2): Smooth and stylish, this affordable Pinot Noir can strut its stuff with even the humblest milk chocolate.

Quinta Da Prelada Ruby $25.00+ deposit: Don't be shy: team up this fresh, fruity Ruby Port with silky smooth milk chocolate and pamper yourself.
Pairings for White Chocolate:
White Chocolate is made without chocolate liquor and thus is not considered true chocolate. White chocolate is a rich product made with cocoa butter, sugar and milk solids. It has sweet flavour notes including cream, milk, honey, vanilla, caramel, and/or fruit and pairs well with soft fruity white wines. I bet you are wondering if I can find additional ways of saying; pair it with or team-it-up with? Well, the truth is I have exhausted my vernacular. So I suggest you try these pairings and let me know in 30 words or less if I got it right.
Ca Montebello Moscato $15.00 + deposit.The sensual richness of the fruit in this Moscato will make you wonder how you managed to enjoy white chocolate without it.
Blufeld Riesling $15.00+ deposit: Stylish Riesling full of citrus and stone fruit flavours with an elegant finish.
Zanatta Damasco $18.00+ deposit. The rich, luscious fruit and light spritziness of this Vancouver Island favourite may surprise you how well it works with white chocolate
Quail's Gate Gewürztraminer $20.00+ deposit: An elegant and balanced Gewürztraminer with hints of spice.
Kettle Valley Viognier $27.00+ deposit. Luscious mouth-feel, full of apricot and white peach flavours. A rich and sensuous wine.

Everyone's palate is different. So, pairing beverages with food or chocolate is more an art form than a scientific process. However, there are some basic rules that work and I have tried to follow them.  I would be delighted to know if these suggestions work for you.
Mike Sly is a Product Consultant at Liquor Plus Royal Oak and can help you with any wine questions you have on Fridays & Saturdays