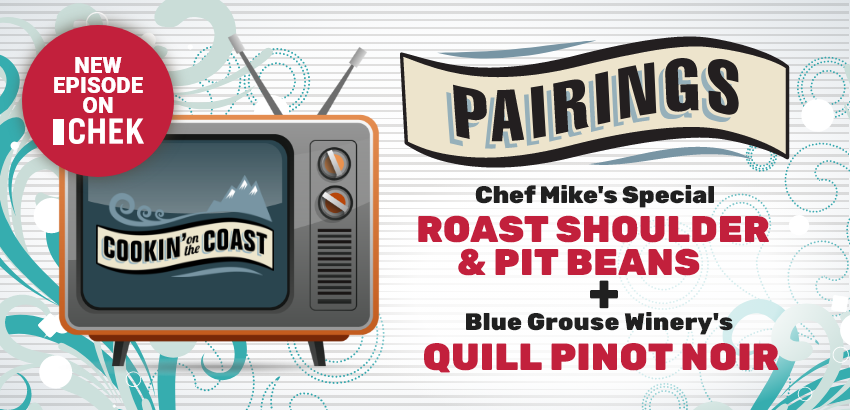 Blue Grouse Winery is a great option if you're looking for wine from the Cowichan Valley.
There's something magical at the thought of that, especially at this time of year; a sustainable vineyard, blanketed with a light veil of fog and surrounded by the orange-tinted cedar trees of this cozy corner of Vancouver Island.
Quill Pinot Noir comes from that place. It's a light BC red with cherry notes and hints of berries and the forest floor. And as we'll see in this week's episode of Cookin' On the Coast, it's the perfect pairing with Chef Mike's tender pork shoulder and a dish with fat and spicy flavours.
Cookin' On the Coast Episode 8: Quill Pinot Noir From Blue Grouse Winery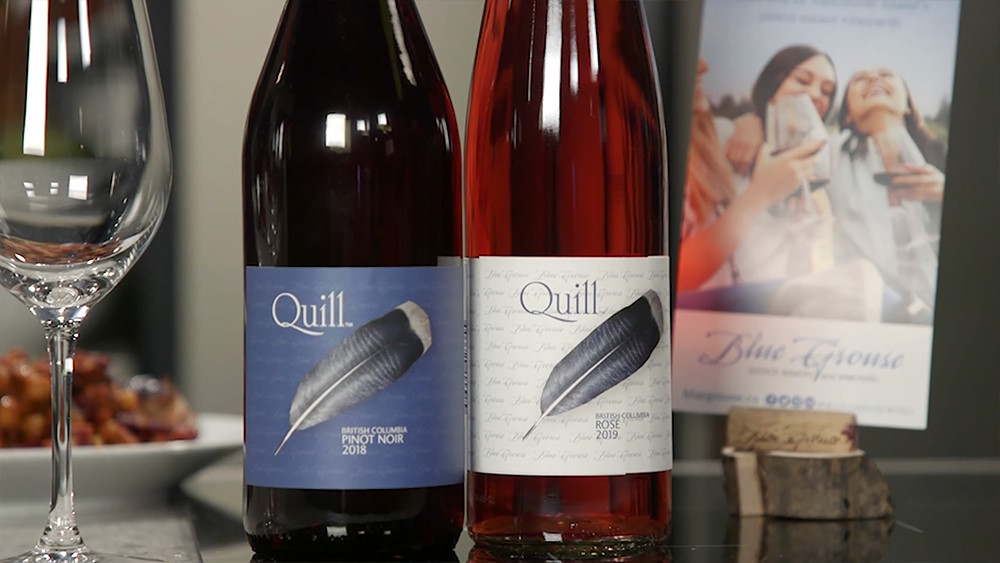 This week, we join Chef Mike and Blue Grouse Winery's Bailey Williamson in sampling Quill Pinot Noir. It's a BC red wine, produced in the Cowichan Valley, that pairs brilliantly with Mike's roast pork with beans.
As as Pinot Noir, it's a light, earthy red with scents of berry. Quill Pinot Noir is a textbook sample of these characteristics, infused with caramel, baking spice and the kind of love that comes only from the soil and nurture of the Cowichan Valley.
When we look at Quill Pinot Noir, we consider that:
It's a BC Red
It's acidic
It's aromatic
It has cherry undertones
This is a fruity BC red wine. It's light, it's acidic, and it cuts through a rich dish like this week's tender pork shoulder covered in sweet molasses and served with beans.
How to Pair Quill Pinot Noir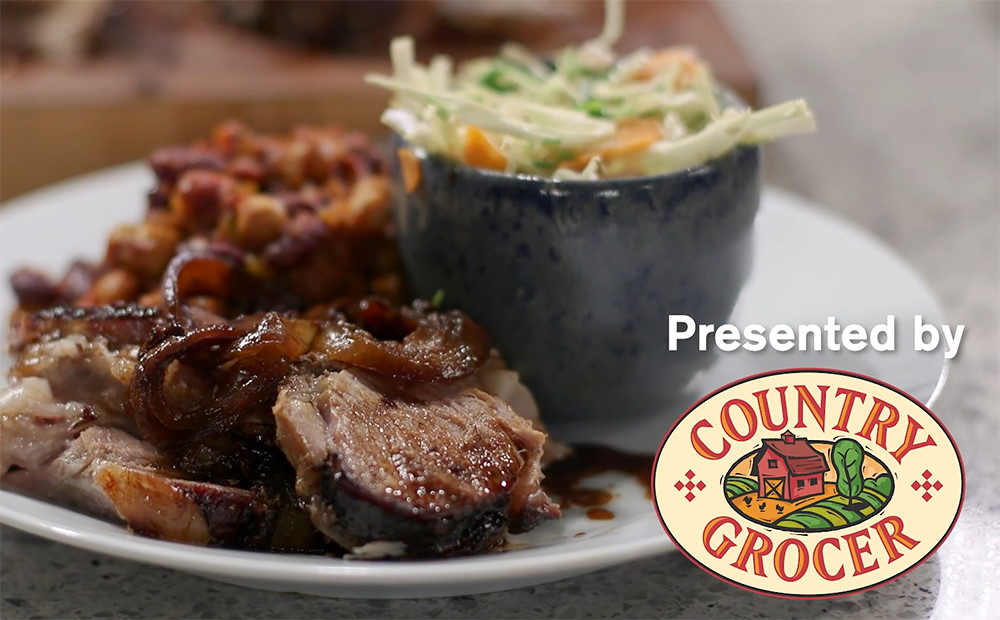 Pinot Noir is a versatile wine. That's one of the many reasons it's such a great option for wine lovers, from beginners to connoisseurs. Given its fruity hues, you can pair it with most, yes, most foods, other than a delicate seafood like oysters. That said, remember there are a variety of Pinot Noirs, including light, sweet-fruited, silky, rich (full-bodied) and mature options.
Quill Pinot Noir is a light, sweet-fruited Pinot. That means you can think about pairing it with:
Pork
Seared salmon and tuna
Pasta
Barbecue
Roast
Cherries
Figs
Asparagus
Goat cheese
That's not an exhaustive list, but it gives you an idea of how to pair a light Pinot like Quill.
If a meal will pair with berries, there's a good chance it will work with Pinot Noir. Remember that Quill is light and fruity, rather than a full-bodied Pinot, the latter of which may work a little better with fowl.
Experiment with Pinots. They're very versatile – and a lot of fun!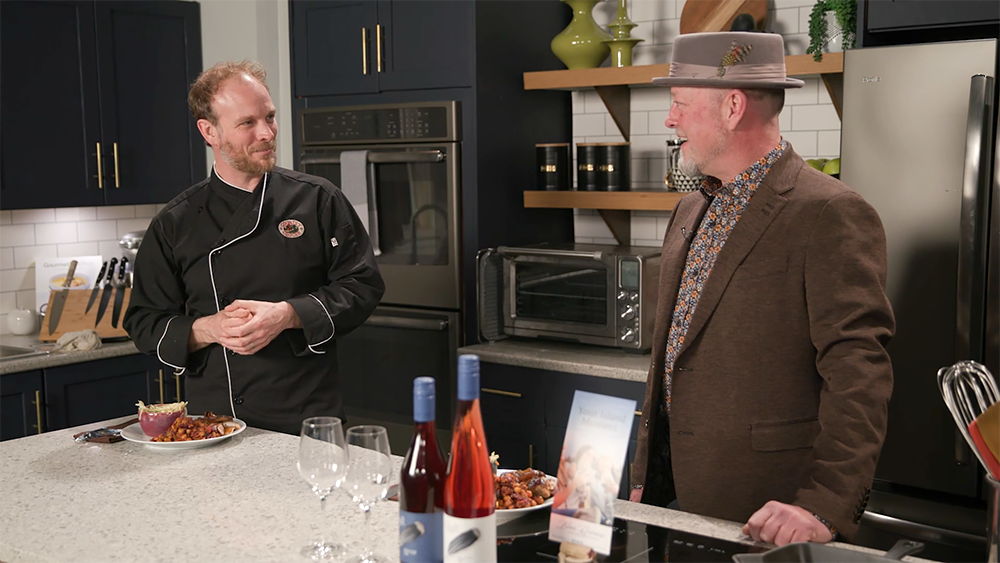 This Week's Partner: Blue Grouse Winery
Based on a slope in the Cowichan Valley, Blue Grouse Winery makes the most of warm, dry summers and moist winters. It's here that the Kilitz family first experimented with vines imported from Germany and France over 30 years ago and found they thrived in this Mediterranean climate.
Fast forward three decades and Blue Grouse Winery is now a fixture on the southern Vancouver Island wine scene, with a variety of whites and reds, and this week's Quill, which strikes a balance between the region's high acidity grapes and the more fruit-forward species of the Okanagan.
Be sure to pop by their tasting room if you're in the Duncan area – or look into Blue Grouse's wine club, which gets you access to its special tastings and events, along with their wines delivered right to your door.
Liquor Plus Sponsors Cookin' on the Coast
Each week, Liquor Plus partners with CHEK and Country Grocer to produce Cookin' on the Coast, which features unique food and drink pairings offered by BC suppliers. All of the beverages featured on this program can be found in Liquor Plus stores and online at liquorplus.ca.