Mission Hill Pinot Gris is acidic, has texture and hints of ginger and lemon peel.
That's a bit of a departure from our recent look at Enrico Winery Pinot Gris – a lighter white from the Similkameen Valley. Yet 130KM is a thousand miles in BC's wine industry, and Mission Hill's Pinot Gris is an Okanagan wine, made with a different grape that is grown from unique soil, water and sun conditions that make this Pinot Gris an experience of its own.
This week on Cookin' On the Coast, we join Chef Mike and Mission Hill's Karyn Stewart in pairing chickpea flatbread and roasted pickled beats with Mission Hill Pinot Gris, a white wine that adds acidic to spicy – the perfect complement to a meal that needs a wine with texture.
Cookin' On The Coast Episode 9: Mission Hill Pinot Gris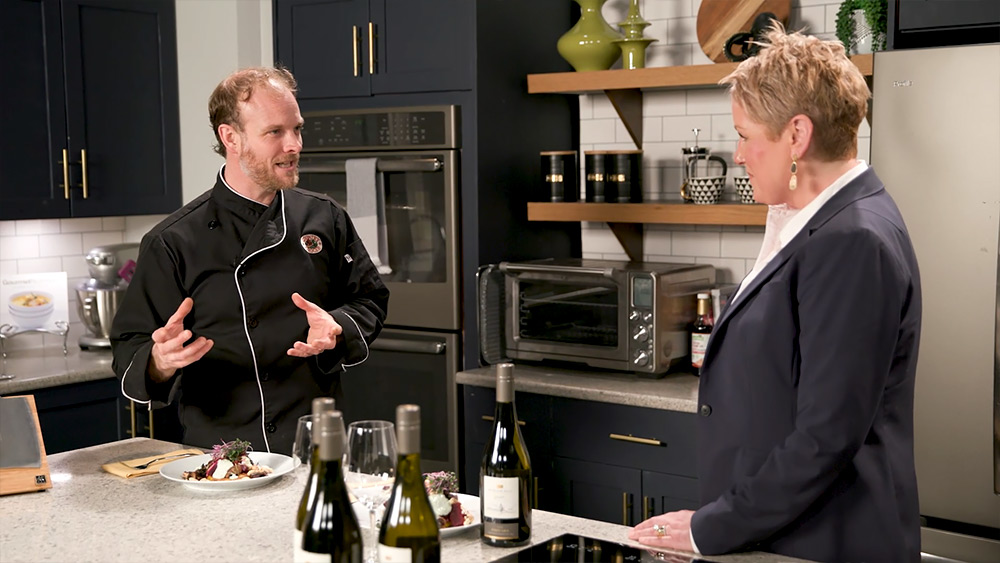 You've heard of Mission Hill. It's one of the biggest three wineries in British Columbia and a fixture on many a wine shelf in Liquor Plus stores.
As a Pinot Gris, we're already familiar with the basics of what this week's beverage, Mission Hill 2019 Reserve Pinot Gris, brings to a meal. When we look closer, we find that:
It's a white wine
It's acidic
It's crisp
It has hints of ginger and lemon peel
Yet on closer inspection, we find Mission Hill Pinot Gris is a 'heavier' Pinot Gris. That comes from the grapes, which are grown in Mission Hill vineyard estates throughout the Okanagan – most of which are now certified organic.
It's a big transition to implement organic vineyards. Think time, money, and a lot of elbow grease. But it's the grapes that form the basis of wine. When you love your grapes, you taste the difference.
How to Pair Pinot Gris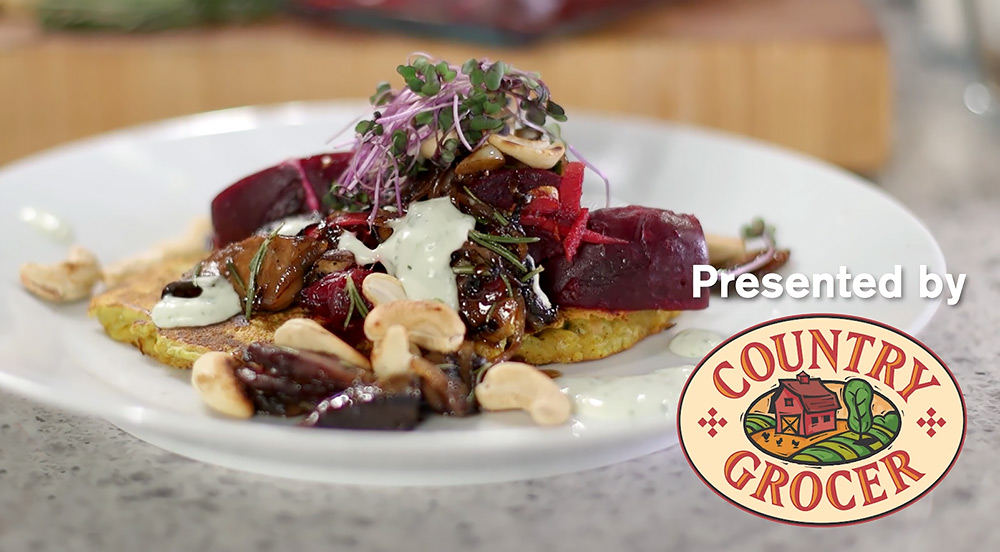 Go fresh with Pinot Gris. This is an excellent wine to pair with vegetables, raw fish and lighter meals. In particular, you could pair Mission Hill Pinot Gris with:
Seafood – Including tilapia, scallops, sea bass, perch, haddock and cod. Pinot Gris goes great with sushi.
Meat – Including white meats like chicken and turkey, and spicy, cured meats like pork and duck.
Herbs and Spices – Including parsley, mint, tarragon, thyme, coriander, ginger and fennel, among many others.
Vegetables and Vegetarian Meals – Including salads with shallots, garlic and ginger. You can also pair it with kale, yellow squash, green apple, jicama, broccoli and cauliflower.
This Week's Partner: Mission Hill Winery
You can't do an Okanagan wine tour without Mission Hill. Over four decades, this family estate winery has developed some of BC's most-loved wines, from those in its Terroir Collection to this week's 2019 Reserve Pinot Gris, which it develops from grapes grown in geological pockets at vineyards throughout the Okanagan and southern British Columbia.
If you will be visiting the Okanagan make sure to check out a wine-tasting at the estate, for the full Okanagan Valley wine experience and the love that it brings.
Liquor Plus Sponsors Cookin' on the Coast
Each week, Liquor Plus partners with CHEK and Country Grocer to produce Cookin' on the Coast, which features unique food and drink pairings offered by BC suppliers. All of the beverages featured on this program can be found in Liquor Plus stores and online at liquorplus.ca.