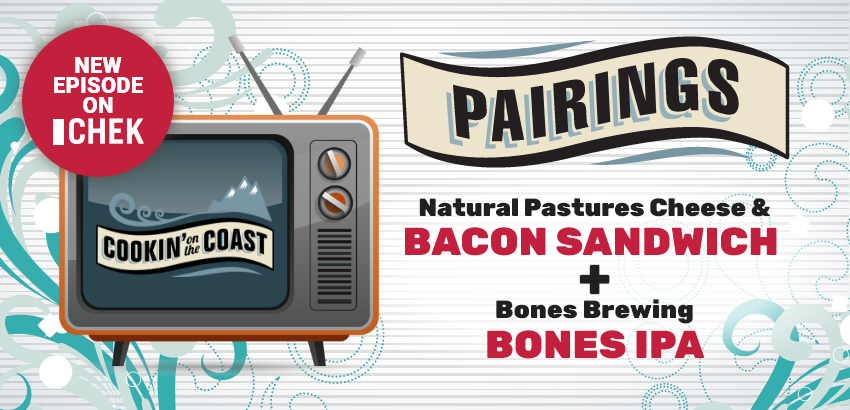 Bones IPA is arguably the most popular beverage from Bones Brewing, a new player on Victoria's microbrew scene that is quickly growing in popularity. And if you're like us, your tummy will soon growl for a bacon aioli sandwich with balsamic vinegar and camembert cheese from Comox thanks to Chef Michael Williams's cooking prowess – and believe us when he says you'll want to wash it down with Bones IPA and its citrusy flavours!
In this week's episode of Cookin' on the Coast, we look at Bones IPA and how to pair this decidedly hoppy, tropical beer. Yes, 'hoppy' beer has a place, and as you're about to see, this is one of them.
Featured Beverage: Bones IPA
Bones IPA is an India pale ale. Spend five minutes in any pub in town and you'll likely encounter this style of beer.
Some points about Bones IPA we should mention:
It's hoppy
It's bitter
It's citrusy
It's 6.7% alcohol content
We're definitely fans of Bones IPA – and that last point doesn't hurt either!
Bones IPA and That Bacon Sandwich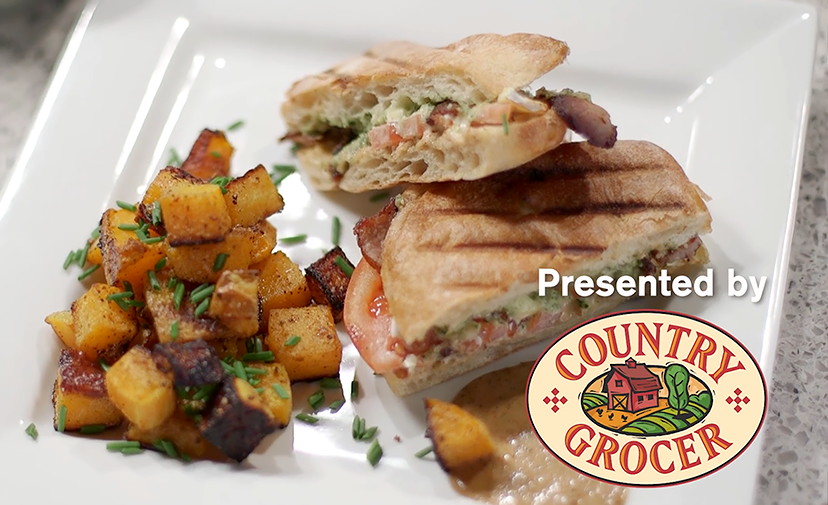 Now, about that sandwich.
We won't dance around this. India pale ale is a hoppy beer. That means it highlights the aroma and flavour of the hops used in the brewing process. IPAs can be a 'you love it or you don't' kind of beer, as they have a distinctive flavour that is impossible to ignore.
Yet when paired correctly, hoppy beer like Bones IPA simply nails a good meal. Bones IPA in particular hits the spot because of the contrast of a bitter ale with citrus flavours with the distinctive heaviness and flavours of a bacon sandwich with a rich cheese like camembert (shout out to Natural Pastures Cheese Company for that delish Vancouver Island cheese!)
A quick trip to Country Grocer can make this unique pairing a reality. And once you've tried it, you'll see what we mean!
How to Pair Bones IPA
Bones IPA is bitter and hoppy. It's a strong beer – and you'll want to pair it with strong flavours accordingly.
Try pairing Bones IPA with a taco or a burger with barbecue sauce.
Think heavy foods with Bones IPA. It would work well with sausages, french fries and/or deep-fried meats. A beer like Bones IPA should not be used with a light meal. Instead, it's a meal in itself that goes with another heavy dish. And its bitterness will help counteract foods that are salty or fried.
You can also use Bones IPA to cleanse your palate and wash away the flavour of a previous meal.
This Week's Partner
Bones Brewing is a new brewery based in Victoria. Founded by Mike Roberts and Garrett MacDonald in 2020, the brewery has since expanded its collection of beers.
Bones currently offers two India pale ales: Mosaic and Bones IPA.
This week, we looked at Bones IPA, and we like the fact that Bones features art work from Fernwood artists in its branding, and that it donates part of its proceeds to the Fernwood Neighbourhood Resource Group as well.
Combine the fact that Bones IPA may be the best beer you'll ever have with a bacon sandwich and we think the future for Bones Brewing is very bright indeed.
Liquor Plus Sponsors Cookin' On The Coast
Each week, Liquor Plus partners with Country Grocer and CHEK News to produce Cookin' on the Coast, which features unique food and drink pairings offered by BC suppliers. All of the beverages featured on this program can be found in Liquor Plus stores and online at liquorplus.ca.