Cookin' On the Coast Episode 12:
Enrico Winery Coronet & West Coast Eggs Benedict w/Smoked Salmon & Bread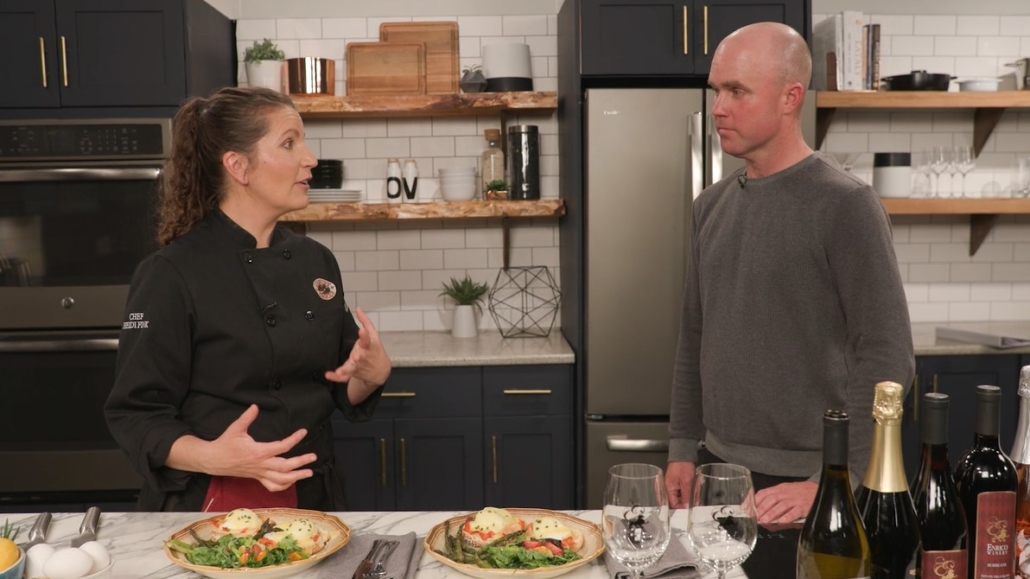 For episode 12, we've got a special West Coast pairing coming your way. Chef Heidi will be cooking up a West Coast Eggs Benedict complete with hollandaise sauce, smoked salmon, and an everything bagel. This meal is zesty, light and fresh – a perfect brunch option!
Our Liquor Plus sponsored pairing for episode 12 is the 2021 Shining Armour Pinot Gris from Enrico Winery. Simon will be representing Enrico Winery on this episode, joining Chef Heidi as they break down this yummy new brunch pairing.
Want to try the Shining Armour Pinot Gris? Grab a bottle at your nearest Liquor Plus liquor store.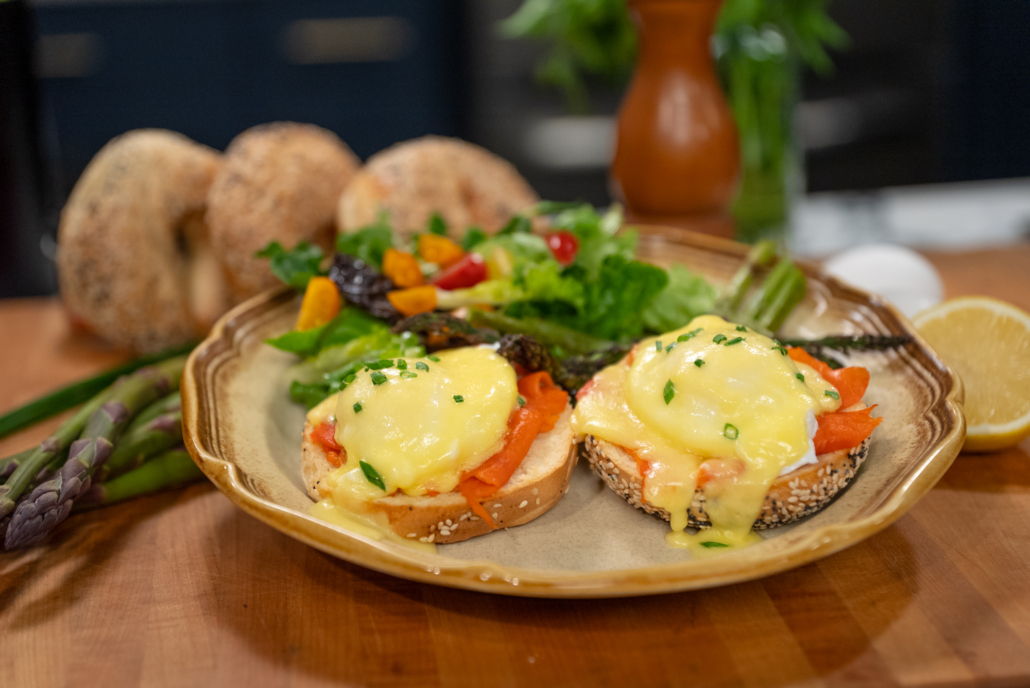 Together with Chef Heidi and Simon from Enrico Winery, we'll learn why this West Coast Eggs Benedict with hollandaise and smoked salmon works so well with the Pinot Gris from Enrico Winery. Simon will also share more about Enrico Winery, his role at the winery, why Pinot Gris is so popular on the Island, and more.
Grab the recipes and ingredients right here:
Featured Beverage: Shining Armour Pinot Gris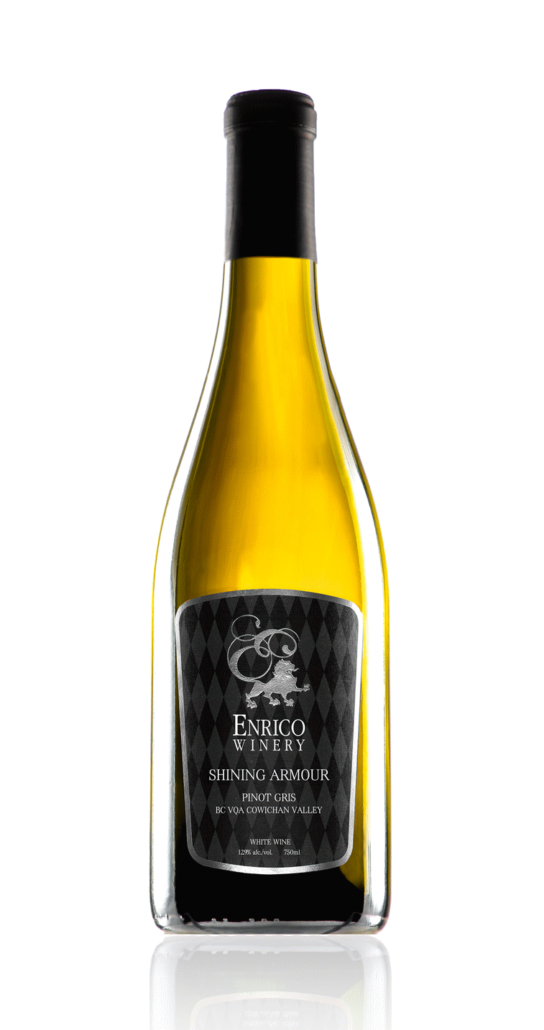 Shining Armour from Enrico Winery is a 2021 BC VQA Pinot Gris grown in the Cowichan Valley. The wine is rich and aromatic, with crisp flavours of Granny Smith apple, pear and citrus. Bright in colour, this wine is zesty and clean.
The Pinot Gris is a classic Vancouver Island wine. In fact, you won't find too many wineries on the Island without their own Pinot Gris. Our climate is perfect for this grape, which is very tolerant of varying climates.
Why it Works with our West Coast Eggs Benedict
Simon from Enrico Winery joins Chef Heidi to discuss why this wine pairs so well with the eggs benedict.
The 2021 Shining Armour Pinot Gris has great acidity with Granny Smith apple flavours, which will compliment the eggs benedict well – especially the smoked salmon. The crispness of the wine will cut right through the strong, zesty hollandaise.
This wine is extremely fresh tasting, making it ideal for brunch.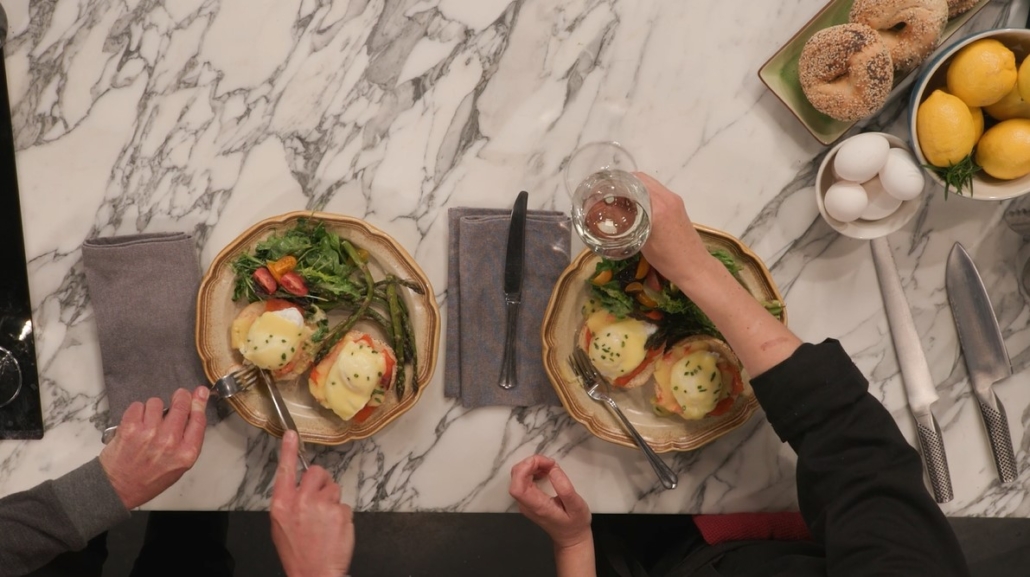 How to Pair a Pinot Gris
Pinot Gris is a white wine variety that grows especially well on Vancouver Island. Grown around the world, this wine is made in various colours such as deep golden yellow, copper, or even pink. Pinot Gris' are acidic, light-bodied and fruity, making them rather versatile when it comes to pairing.
Besides our West Coast Eggs Benedict, try pairing the Shining Armour Pinot Gris with these foods:
Seafood
Pasta with cream sauce
Salmon
White meats and cheeses
This Week's Partner: Enrico Winery

Located in the beautiful Cowichan Valley, Enrico Winery sits on 50 sprawling and picturesque acres. Since 2010, Enrico has won an impressive collection of awards in a range of categories, including multiple gold medals. They even won the first prestigious Lieutenant Governor's Award for Excellence in B.C.
Thanks to the unique microclimate of the Cowichan Valley, Enrico is able to 8 different varieties of wine, ranging from fruity whites to full-bodied reds. These wines are totally unique to Vancouver Island.
Be sure to check them out at 3280 Telegraph Road in Mill Bay. To learn more about their wine, head over to their website: Enrico Winery.
Liquor Plus Sponsors Cookin' on the Coast
Each week, Liquor Plus partners with CHEK and Country Grocer to produce Cookin' on the Coast, which features unique food and drink pairings offered by BC suppliers. All of the beverages featured on this program can be found in Liquor Plus stores across Vancouver Island.