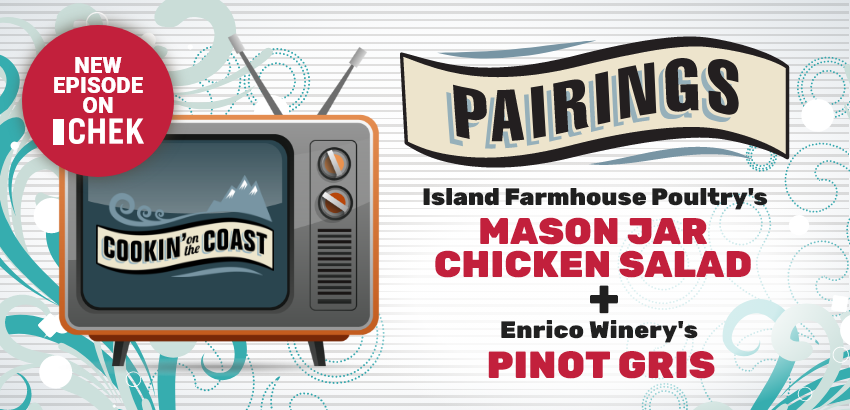 Enrico Winery Pinot Gris is a light, highly acidic white wine that is ideal for lighter meals. You could easily pair it with lunch or a light dinner with fish or fresh vegetables.
It's tempting to pass it off as a summer beverage. But that's a mistake – while pinot gris is a natural fit for the warm days of June and July, pair it right and it's a great complement to low calorie meals at any time of year.
In this week's episode of Cookin' on the Coast, we look at Enrico Winery Pinot Gris, a delectable white wine made at Enrico Winery, just over the Malahat, in Cobble Hill, and why it works so well with Chef Michael's chicken salad with lemon chia dressing.
Cookin' On The Coast Episode 5: Enrico Winery Pinot Gris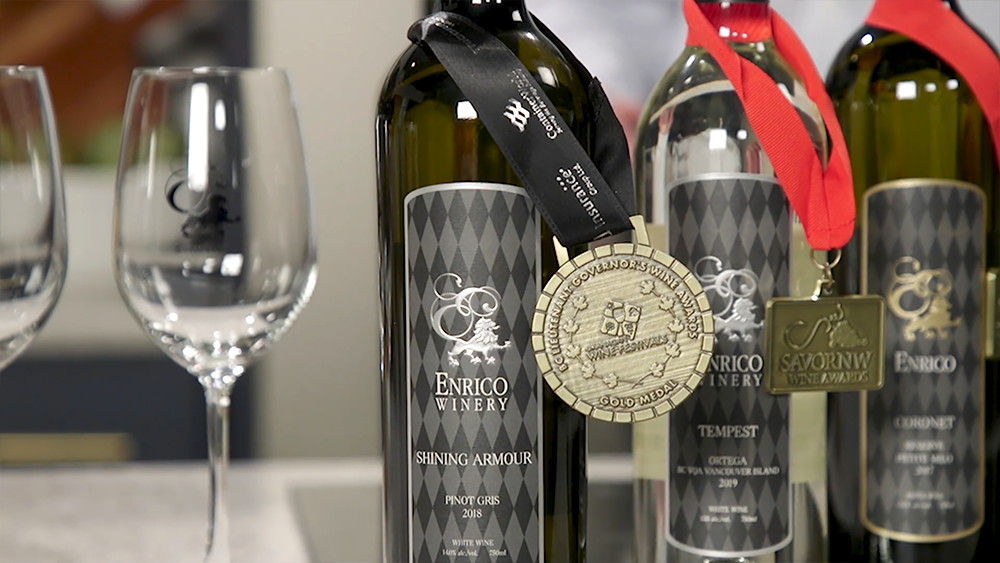 This week, we sample Enrico Winery Pinot Gris, and their 2018 Shining Armour Pinot Gris in particular. As we learn from Enrico's Simon Spencer, it's got high acidity and adds freshness to the meal. Half the wine was fermented in traditional oak barrels – and you can taste the oak with each sip.
Some things to consider with Shining Armour Pinot Gris:
It's a white wine
It's dry
It's acidic
It has a crisp apple flavour
It has hints of pear and citrus
There's a pattern going on here. Shining Armour Pinot Gris is not a beverage that over-powers a meal. Instead, it's a refreshing contrast – a light white wine that cuts through fat and adds acidic flavour to the foods with which it's paired.
That's precisely why it works with Chef Michael's mason jar pumpkin seed-crusted chicken salad with lemon seed dressing. It's an acidic white with a light meal and citrus flavours. Low calories, high acidity. It's an ideal combination for a pinot gris!
How to Pair Pinot Gris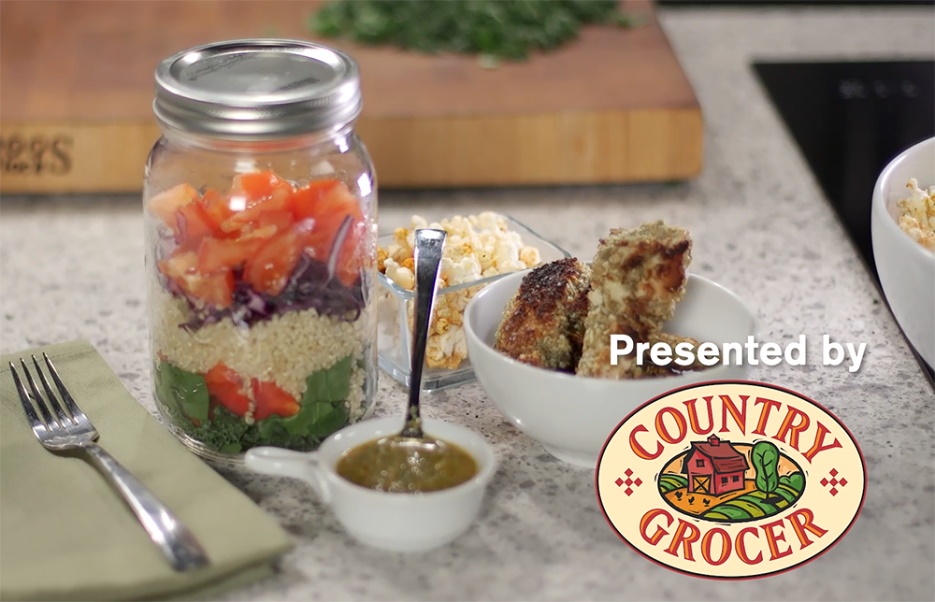 Pinot gris is a zesty wine with high acidity. As we've seen, it's great with salads. But it works with a variety of other foods too.
Think about pairing Enrico Winery Pinot Gris with fish or fresh vegetables. Shellfish would work brilliantly with pinot gris. Try Shining Armour Pinot Gris with fresh Dungeness crab from Country Grocer and a lemony aioli on the side. You'll thank us later.
You could also pair it with grilled fish or oven-roasted chicken. Think about pairing it with foods that use shallots, garlic or ginger for flavor. It works well with vegetarian dishes too. Use it with cucumber, yellow squash, celery, onion, parsnip, jicama, kale, green apple, green melon, broccoli and cauliflower, among other vegetables.
It's about acidic flavours and light-ish meals with pinot gris. Try this pairing and your meals will be splendid.
This Week's Partner: Enrico Winery

Nestled in the Cowichan Valley, Enrico Winery is a 50 acre estate-winery that produces eight varieties of wine, from fruity whites to full-bodied reds. It's the first and, to date, only Vancouver Island winery to win the Lieutenant Governor's Award of Excellence in British Columbia Wines (for its Tempest Ortega) in 2015.
Enrico currently makes three pinot gris: Shining Armour, Duchess and Celebration, each of which brings fruity, dry and acidic lightness made from grapes grown in the unique microclimates of lower Vancouver Island.
Liquor Plus Sponsors Cookin' on the Coast
Each week, Liquor Plus partners with CHEK and Country Grocer to produce Cookin' on the Coast, which features unique food and drink pairings offered by BC suppliers. All of the beverages featured on this program can be found in Liquor Plus stores and online at liquorplus.ca.