Cookin' on the Coast 2023 – Episode 4:
Joie Farm Winery Noble Blend with Kickin' Kung Pao Noodles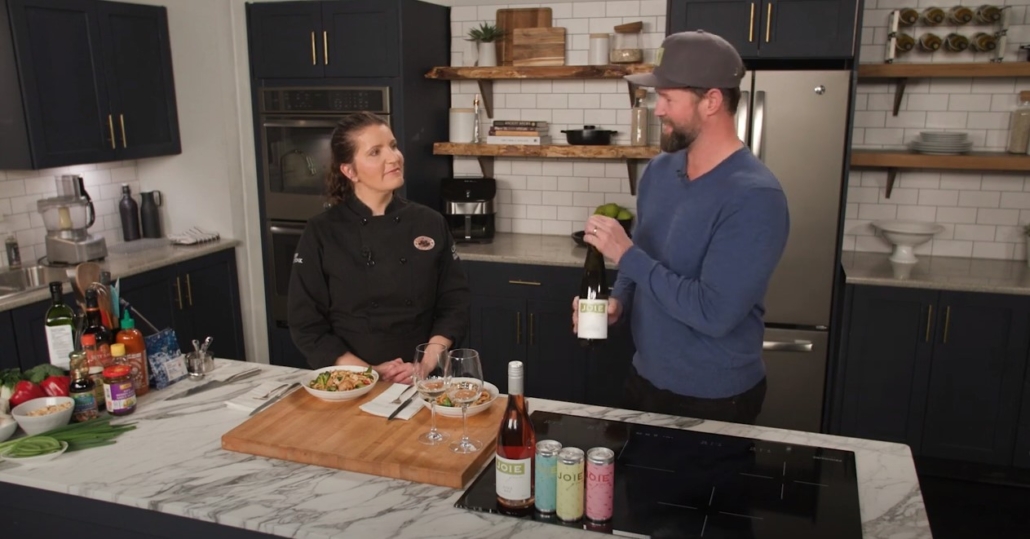 For the fourth episode of the season, Chris Smith is here to join Chef Heidi from Joie Farm Winery in Naramata, BC. Chris has brought A Noble Blend 2022, the flagship wine of Joie Farm Winery. The wine makes for a terrific pairing with the meal of this episode – find more details on the pairing in the sections below.
Head to a Liquor Plus liquor store near you to pick up this delicious white wine blend from Joie Farm Winery.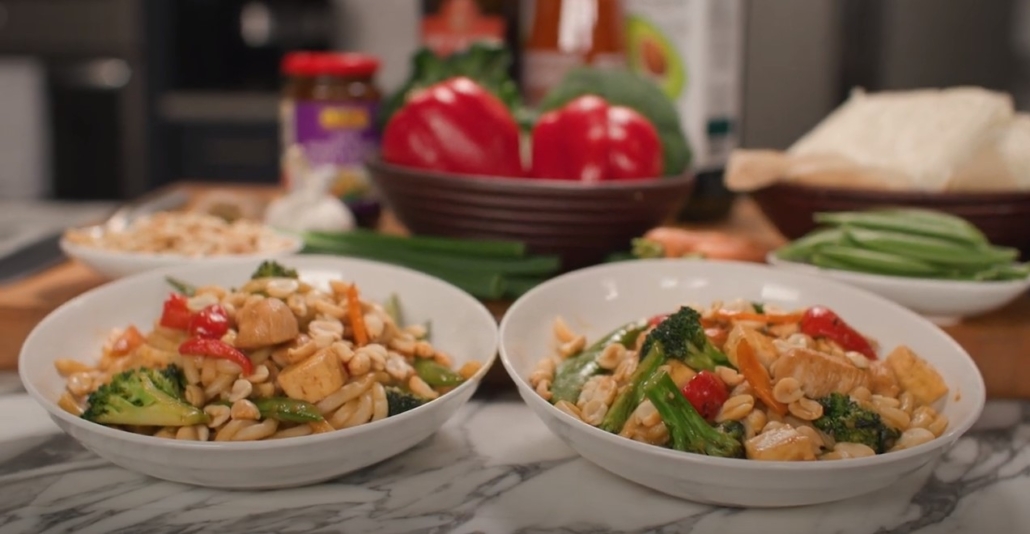 On this episode of Cookin' on the Coast, Chef Heidi will be preparing  Kicking' Kung Pao Noodles. This Chinese-inspired dish can be made with chicken or tofu (flexitarian friendly) and packs a ton of flavour.
In the video below, Chef Heidi, along with Chris from Joie Farm Winery discuss why this flavourful dish can be paired with a white wine blend like A Noble Blend. We'll also share some further white blend pairing tips, give a bit of history on the winery, and share more details on the wine itself.
Grab the recipes below and all the ingredients at your local Country Grocer:
Featured Beverage: Noble Blend from Joie Farm Winery
A Noble Blend from Joie Farm Winery is a big wine made with a classic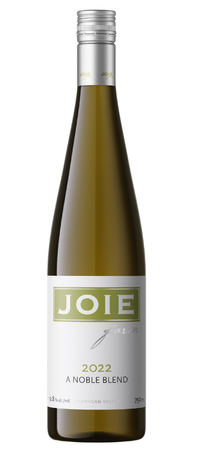 blend of classic blend of Gewürztraminer, Riesling, Pinot Auxerrois, Pinot Gris and Pinot Blanc.
These grapes are big, bright and crisp, but also provide a hint of sweetness. Also watch for tasting notes of wildflower, orchard fruit and grapefruit.
Region: Okanagan
Vintage: 2022
Why it Works with Kickin' Kung Pao Noodles
The Asian flavours in this dish are big. From the spice to the garlic and more, these Kung Pao noodles are sure to kick you in the face with flavour as their name suggests.
Pairing up spicy Asian food with wine can be challenging. As Chris said, "They haven't grown up together". The reason why Noble Blend from Joie Farm Winery makes for such a great pairing with this dish is that it brings an equally big flavour. It's big, crisp and delicious, and also brings a subtle sweetness to meet the heat in the food.
You need a little sweetness when you're dealing with spicy food like this. You don't want a wine that will end up fighting with it too much. That's why Noble Blend is perfect for the occasion.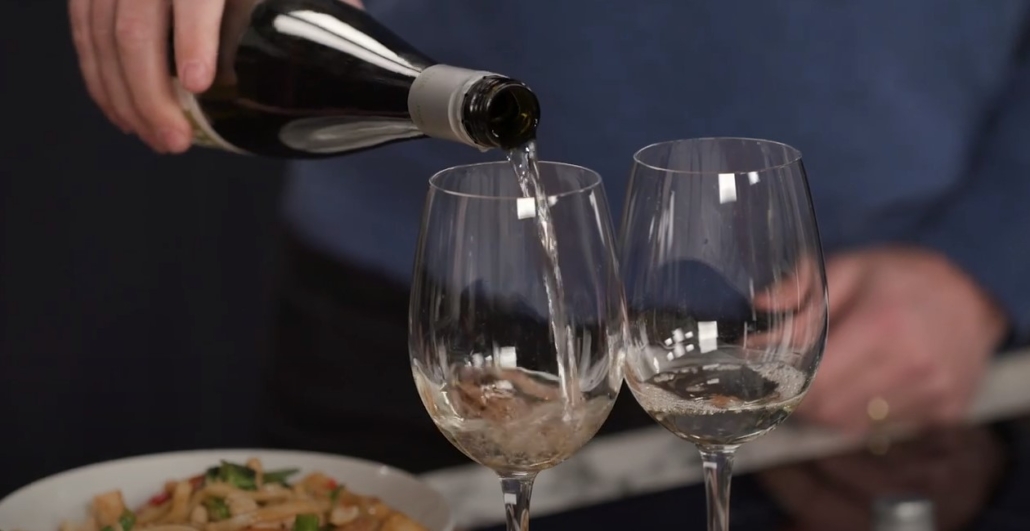 White Wine Blend Pairing Tips
Pairing a white depends completely on which type of blend you're working with and what kinds of flavours you end up with. For example, if the blend is made up of fuller varieties, a creamier dish is a great option.
If you have a white wine blend like A Noble Blend from Joie Farm Winery, you'll be able to pair it with a range of foods thanks to its big, bright and crisp flavours. The subtle sweetness also allows you to pair with other spicy foods like Thai, Indian and even Mexican food.
This Week's Partner: Joie Farm Winery

Founded in 2002, Joie Farm was originally a cooking school and gastronomic guesthouse before starting to make wine in 2003 and got its start by supplying to restaurants in the early days.
The winery was just the fourth to grow from the Naramata Bench area, growing in a unique valley with gorgeous views of Lake Okanagan. Then in 2017, the Winery opened its doors to their tasting room, which offers the same incredible views of mountains, lakes, and vineyards.
As both growers of grapes and winemakers, the people at Joie Farm Winery live and breathe everything wine. Their passion shines through in the quality of the wines, which represent laid-back West Coast living and what they call "European joie de vivre".
Learn more about their history, wines and more on their website: Joie Farm Winery.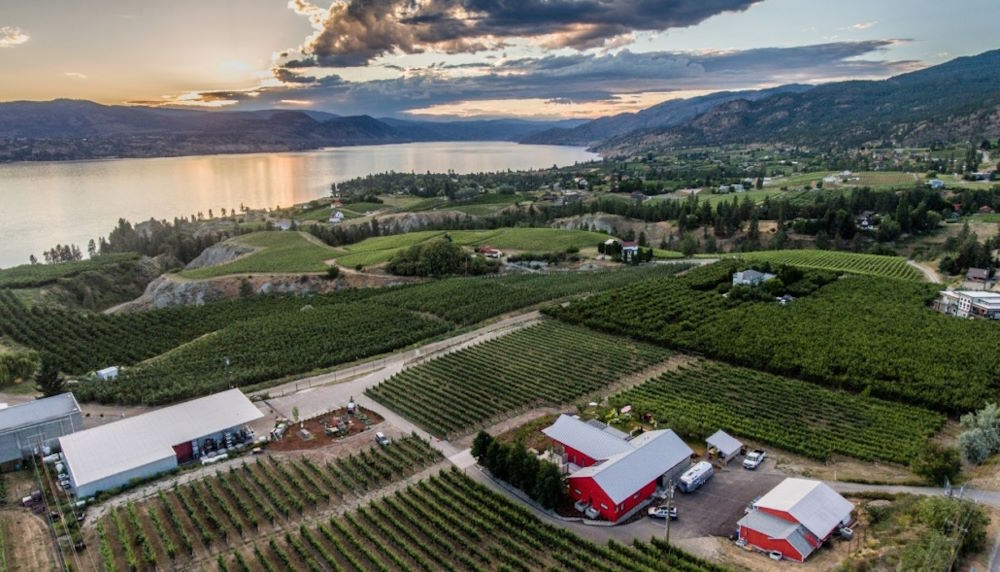 Liquor Plus Sponsors Cookin' on the Coast
Each week, Liquor Plus sponsors the Pairings segment of Cookin' on the Coast on CHEK. The show features unique food and drink pairings offered by BC suppliers, with recipes created by Chef Heidi Fink and sponsored by Country Grocer. All of the beverages featured in this program can be found in Liquor Plus stores across Vancouver Island.