Cookin' On the Coast 2023 – Episode 3:
Lighthouse Kapitan Czech Pilsner & Race Rocks Amber Ale with Feed Em' Fast Pantry Staple Meals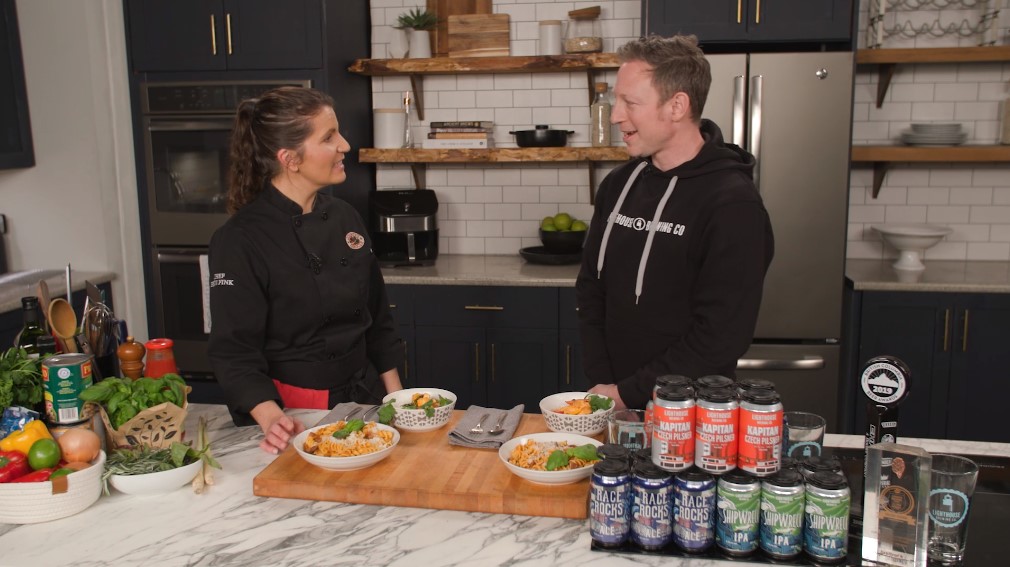 For episode #3 of the season, Chef Heidi is joined by Lyle Eggen from Lighthouse Brewing, who is bringing some of Victoria's favourite beer with him – Kapitan Czech Pilsner and Race Rocks Amber Ale.
Head to a Liquor Plus liquor store near you to pickup these beers plus a variety of other options from Lighthouse Brewing.
To pair with these delicious but quite different craft beers, Chef Heidi will be making two separate dishes for this episode. One dish is a Thai-inspired curry and the other is an Italian-inspired pasta, but what they both have in common is they can pretty easily be thrown together using just the staples in your pantry.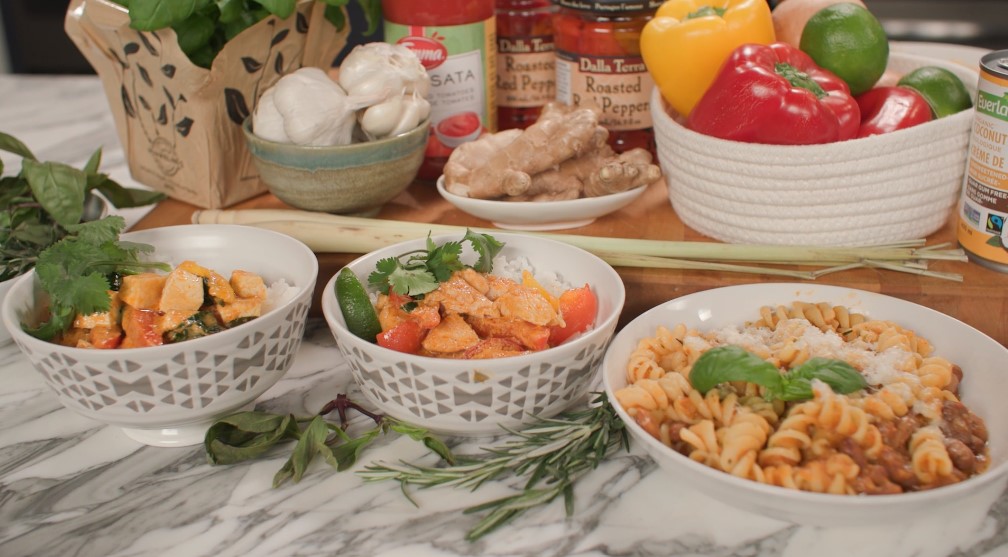 Together with Chef Heidi and Lyle from Lighthouse Brewing, you'll learn how to cook these two delicious pantry staple meals. Then, you'll learn why the Kapitan Czech Pilsner and Race Rocks Amber Ale pair so well with the Thai and Italian-inspired meals. You'll also find some tips for pairing beers, learn the history of Lighthouse Brewing, and more.
Grab the recipes below and all the ingredients at your local Country Grocer:
Featured Beverage: Kapitan Czech Pilsner & Race Rocks Amber Ale from Lighthouse Brewery
Kapitan Czech Pilsner
The Kapitan Czech Pilsner, made with Czech ingredients, is brewed in tribute to Lighthouse's co-founder, David Thomas. It's a strong, balanced and malty beer with a classic crisp finish. Plus, a portion of each sale of Kapitan benefits charities that were close to Dave's heart.
Type: Czech Pilsner
Awards: 3rd at 2022 Canadian Brewing Awards, European Lager (Pilsner)
ABV: 5%
Race Rocks Amber Ale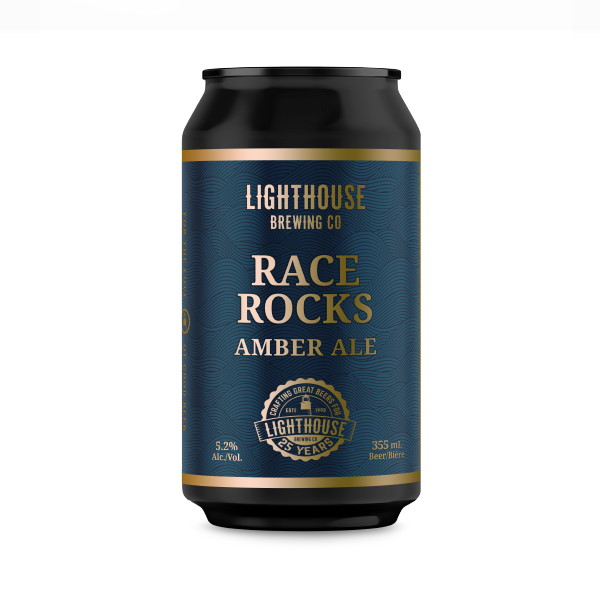 The Race Rocks Amber Ale is the flagship ale of Lighthouse Brewing. This Scottish-style amber is smooth and easy to drink with tasting notes of caramel, toffee and slight chocolate. Race Rocks is
still brewed using the original 1998 recipe!
Type: Amber Ale
Awards: 2nd at 2015 BC Beer Awards (UK Red/Brown), 1st at
2014 Alberta Beer Festival (American Ales), 1st at 2013 BC Beer Awards (Scottish/Irish), 3rd at 2012 Canada Brewing Awards (NA Style Amber Ale), and 2nd 2007 Canada Brewing Awards (North American Style Amber Ale).
ABV: 5.2%
Why it Works with Thai-Inspired Curry & Italian-Inspired Pasta
Lyle from Lighthouse Brewing has brought two beloved Victoria beers with him, Kapitan Czech Pilsner and Race Rocks Amber Ale – both different in style and taste. After giving the beers and the meals a try, Lyle and Chef Heidi discuss the strength of the pairing.
A pilsner is always a safe bet to pair with a curry, because the pilsner acts as a 'palate scrubber'. That means when you're feeling the heat on your tongue from the curry, a sip of the pilsner can refresh your taste buds. A pilsner cuts the heat.
The Race Rocks Amber Ale was chosen specifically to pair with the strong rosemary flavours in the pasta. The Race Rocks can match that intensity. The overall earthiness and malty flavours of the beer are also a great match for this pasta.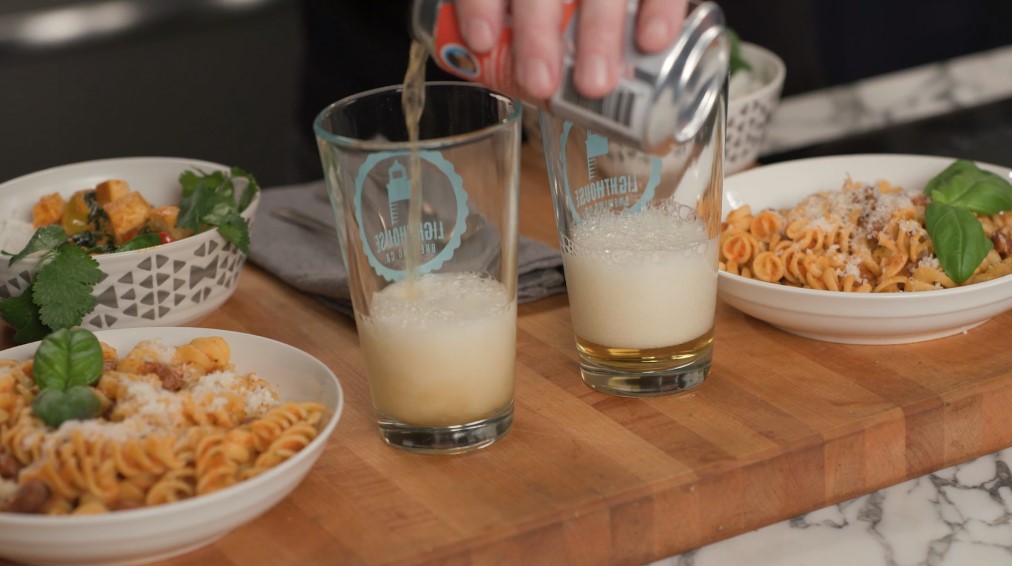 Beer Pairing Tips
Pilsner is an old-style pale lager that originated in the Czech Republic. They're known to be crisp, clean and refreshing. Plus, they can quench your thirst and clean your palate. For those reasons, a Pilsner pairs well with foods that pack a punch, because it can cut through the saltiness and spiciness. Try pairing a Pilsner with:
Thai food
Fried potatoes
White fish
Marinated salads
Fried chicken
Amber Ales are sweet, malt-forward beers that often give flavour notes of caramel and chocolate. They pour darker (but not really dark) in colour, and they're quite a bit sweeter than a Pilsner or lighter beer. The sweetness of the malt in an amber ale begs for a pairing like:
Pepperoni pizza
Italian-style pasta
Grilled meat
Tomato-based dishes
Risotto
This Week's Partner: Lighthouse Brewery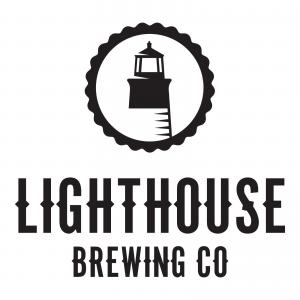 Lighthouse Brewing has been crafting beer in Victoria, BC since August 17th of 1998, making it one of the more established breweries in the city. Over the years, they've remained dedicated to brewing high-quality, handcrafted beers that reflect the nautical spirit of the Island.
The brewery is family owned, and has called Esquimalt home ever since the beginning. Their cozy and inviting tasting room can also be found at 836 Devonshire Road.
Lighthouse is always innovating and releasing special beers, seasonal offerings and exciting rotators, but Race Rocks Amber Ale is one of the few that has kept the same recipe and name since the 1998 beginning.
Learn more about Lighthouse Brewing's history, beers, tasting room and more: Lighthouse Brewing.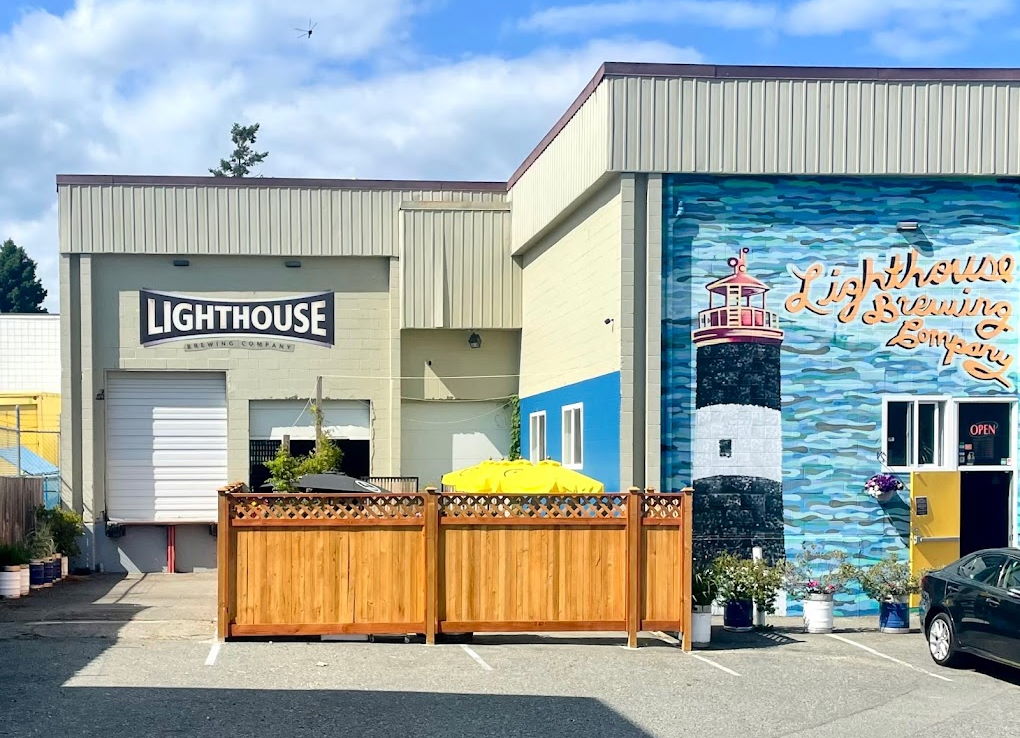 Liquor Plus Sponsors Cookin' on the Coast
Each week, Liquor Plus sponsors the Pairings segment of Cookin' on the Coast on CHEK. The show features unique food and drink pairings offered by BC suppliers, with recipes created by Chef Heidi Fink and sponsored by Country Grocer. All of the beverages featured on this program can be found in Liquor Plus stores across Vancouver Island: https://liquorplus.ca/locate-a-store/