Cookin' on the Coast 2023 – Episode 2:
Haywire Winery Pinot Gris with Fish Fusion: Miso-Butter Baked Halibut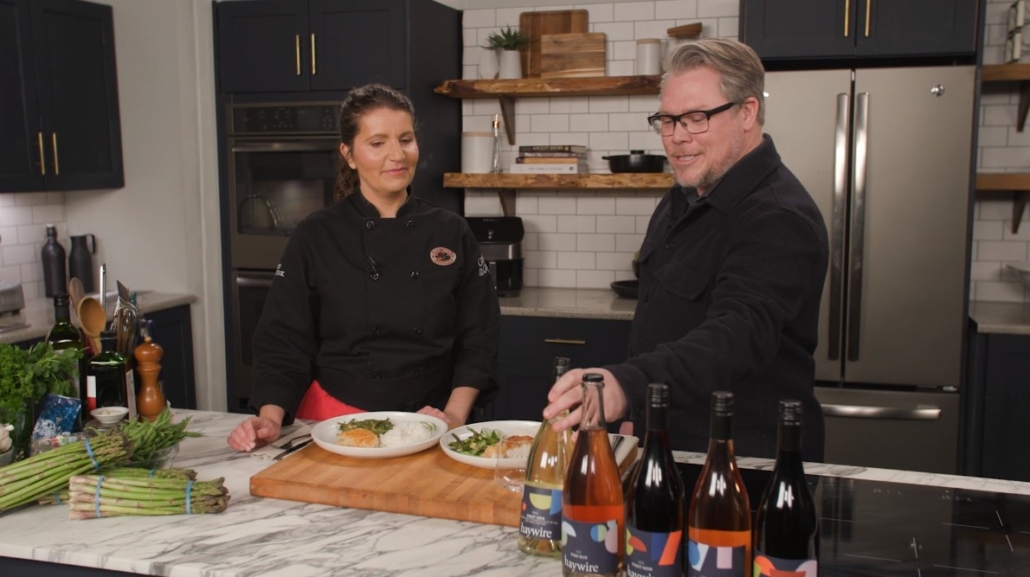 For the second episode of the season, Chef Heidi will be showing you how to make her Fish Fusion inspired miso-butter baked halibut with roasted asparagus and rice. Joining her for the second episode is Stuart Bruce from Haywire Winery in Summerland, BC.
Stuart brought a 2022 Vintage Pinot Gris with him from Haywire Winery, which will pair excellently with the dish. More details on the pairing below:
Head to a Liquor Plus liquor store near you to pickup this delicious, best-selling white wine from the Okanagan.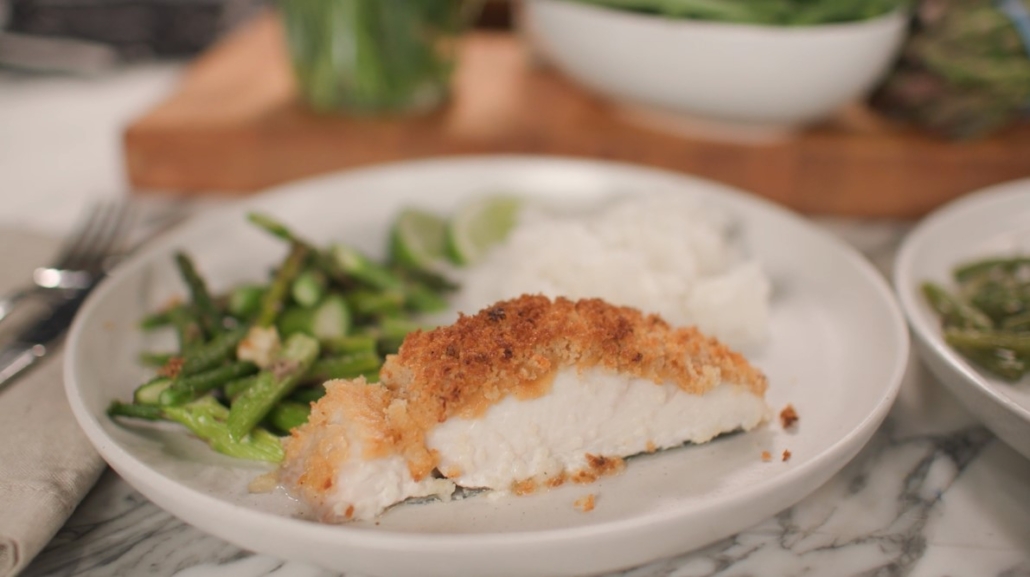 Together with Chef Heidi and Stuart from Haywire Winery, you'll learn how to cook this delicious Fish Fusion with miso butter-baked halibut, roasted asparagus and rice, along with why this Pinot Gris from Haywire Winery is such a good match for the dish. You'll also find some tips for pairing Pinot Gris, learn the history of Haywire Winery, and more.
Grab the recipes below and all the ingredients at your local Country Grocer:
Featured Beverage: Pinot Gris from Haywire Winery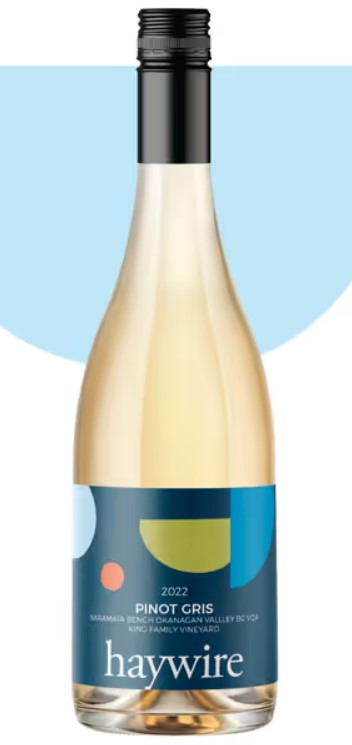 The 2022 Pinot Gris Vintage is from King Family Vineyards on the Naramata Bench in the Okanagan. This satisfying wine is extremely versatile, pairing with a range of foods and occasions. On the tongue, look forward to tastes of fresh pears and tropical citrus.
This wine thrives in cool climates like BC, and is pressed uniquely into concrete tanks for fermentation with natural yeast and ageing.
Region: Okanagan
Vintage: 2022
ABV: 13%
Why it Works with Miso-Butter Baked Halibut
Chef Heidi's Fish Fusion is full of big flavours, from the miso to the butter, garlic and asparagus. The 2022 Pinot Gris selected by Stuart from Haywire Winery is perfect for the occasion.
The wine works well with the saltiness of the food, enhancing the taste but also cutting through it. There's also a little acidity coming from the wine, something that's common with BC wines, which cuts through the fat in the butter and the miso.
The Pinot Gris from Haywire is a little different than the rest, being not only sweet but a little textured from the unique concrete fermentation tanks. That extra weight works amazingly with the flesh of the fish.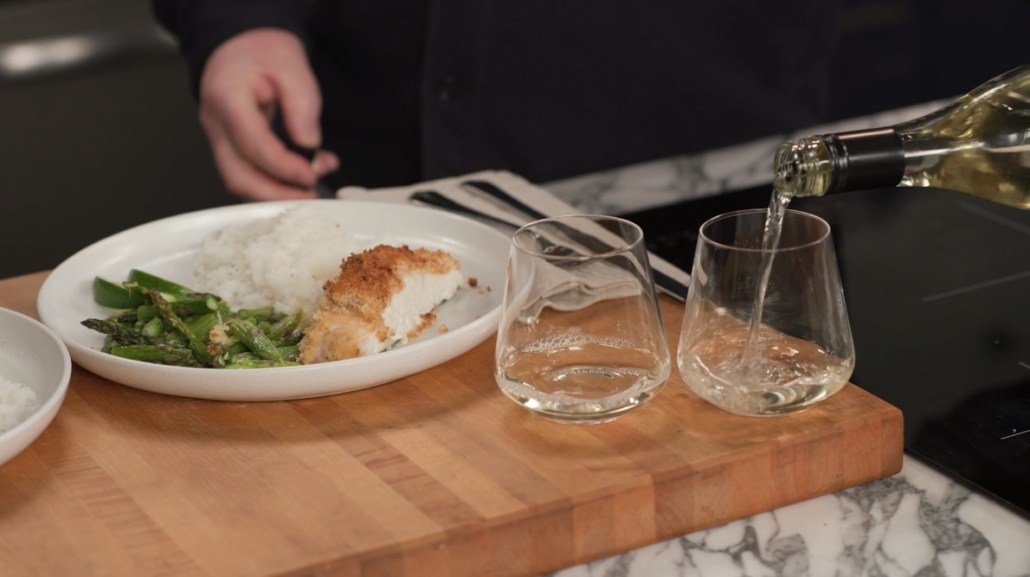 Pinot Gris Pairing Tips
Pinot Gris is a versatile style of wine used to pair with a range of different dishes. But when choosing a pairing, aside from just what's cooking, the cooking style shouldn't be ignored. How the food is cooked along with what type of seasoning it was cooked in should lend some insight to your wine choice.
You also want to try matching the weight, or the texture of the meal with that of the wine. And don't neglect the sides! They can influence the overall taste and ideal wine pairing. Here are some great pairings for a Pinot Gris:
Grilled salmon
Grilled chicken
Indian food
Sushi
Shellfish
This Week's Partner: Haywire Winery

Opened in 2011, the Haywire winemaking facility is home to four other wine labels (Free Form, Narrative, Bizou & Yukon and Garnet Valley Ranch) that live under the umbrella of Okanagan Crush Pad.
Haywire operates on 100% organic estate vineyards in Summerland, BC, where fruit-forward wines and sustainable wine-growing practices are the focus.
After 14 years under the umbrella of Okanagan Crush, Haywire took a big step in early 2023 when introducing a rebrand along with a renovation of the winery's tasting lounge and production facility.
At Haywire Winery, the winemaking process looks a little different. A collection of 40 concrete fermenters are used as a part of their low intervention approach, allowing them to create fruit-forward wines that thrive in cool climates.
Learn more about Haywire's history, process, wines and more: Haywire Winery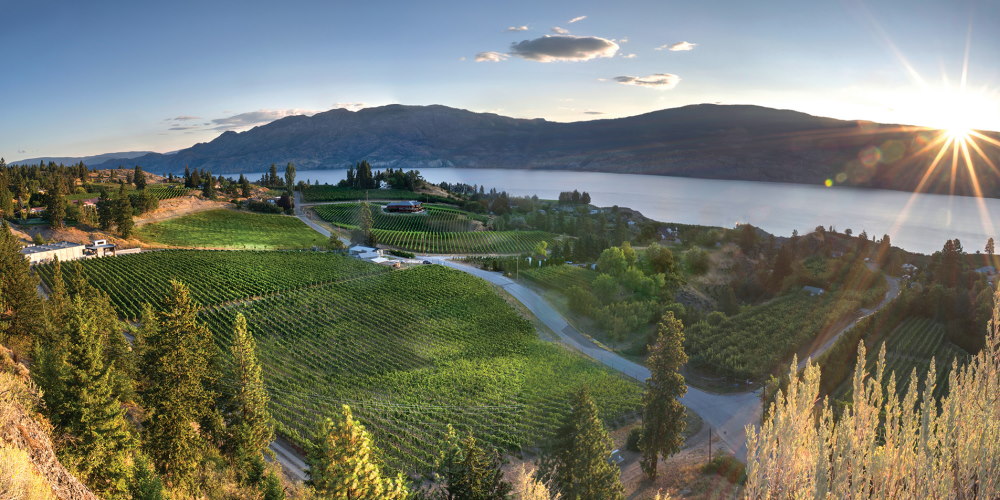 Liquor Plus Sponsors Cookin' on the Coast
Each week, Liquor Plus sponsors the Pairings segment of Cookin' on the Coast on CHEK. The show features unique food and drink pairings offered by BC suppliers, with recipes created by Chef Heidi Fink and sponsored by Country Grocer. All of the beverages featured on this program can be found in Liquor Plus stores across Vancouver Island: https://liquorplus.ca/locate-a-store/