Cookin' On the Coast Episode 9:
Moon Distillery Shaft Cocktail with Tahini Brownies & Cookies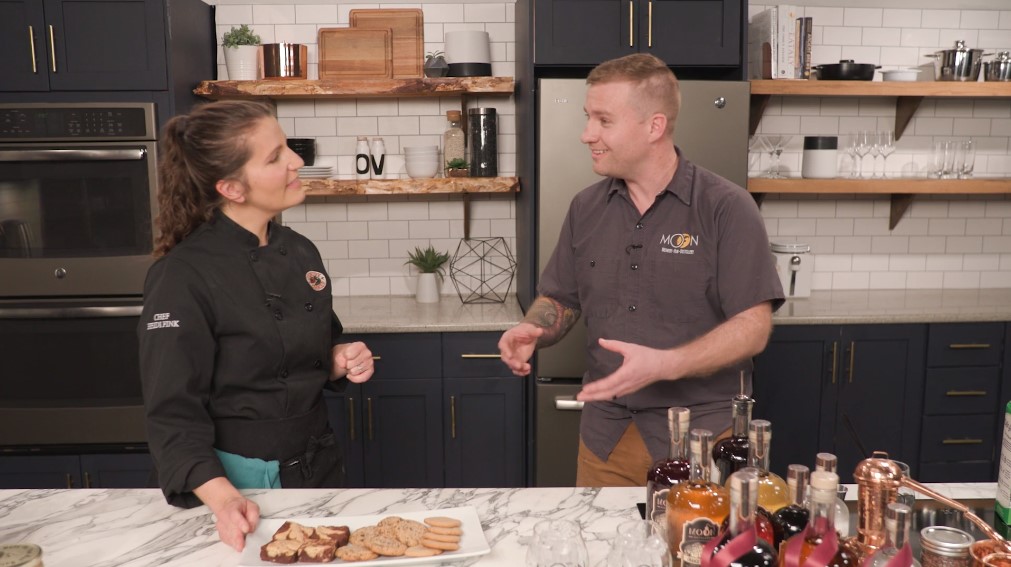 For episode 9 of Cookin' on the Coast, we're in for a special treat. We're skipping dinner and heading right to dessert. On this episode, Chef Heidi Fink shares three special baking recipes: Tahini Swirl Brownies, Salted Tahini Chocolate Cookies, and Chai-Spiced Tahini Shortbread. What a treat!
Our Liquor Plus sponsored pairing for episode 9 is the Shaft Cocktail from Moon Distillery, which you can pick up at any Liquor Plus liquor store. The shaft was born on the Island, and is widely loved. But instead of the typical cocktail that's made with several different parts, this cocktail from Moon Distillery is packaged up into one bottle. Just add cream (or your favourite non-dairy alternative)!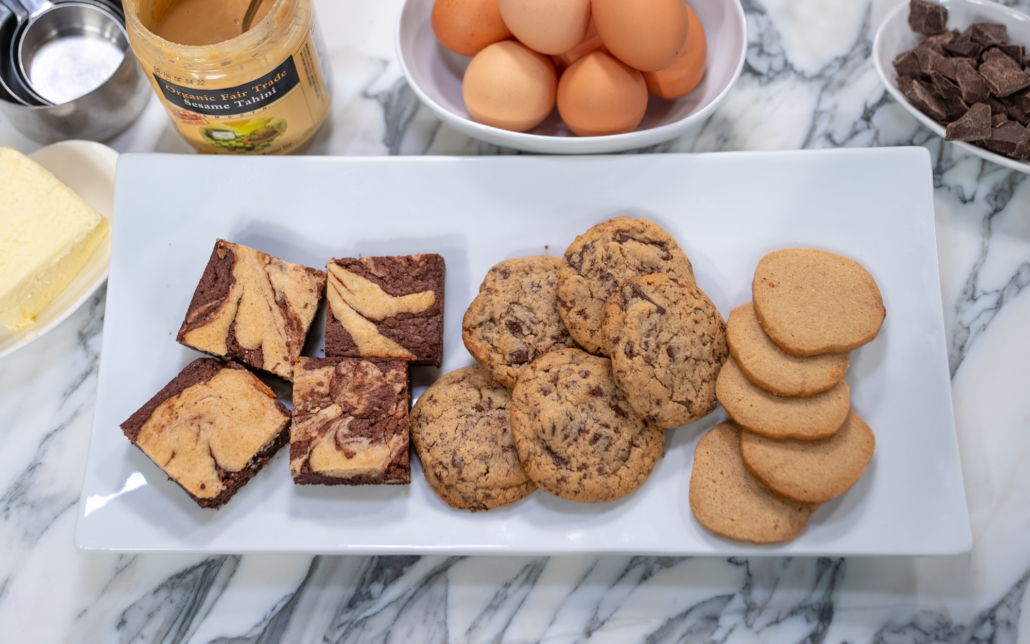 On this episode of Cookin' on the Coast, Clay from Moon Distillery joins Chef Heidi. Together, they'll sample the tahini treats, and discuss why the Shaft Cocktail is such a good pairing. Clay will also tell the story of the Shaft, and highlight their award-winning collection of spirits.
Grab the recipes and ingredients for this episode's goodies:
Featured Beverage: Shaft Cocktail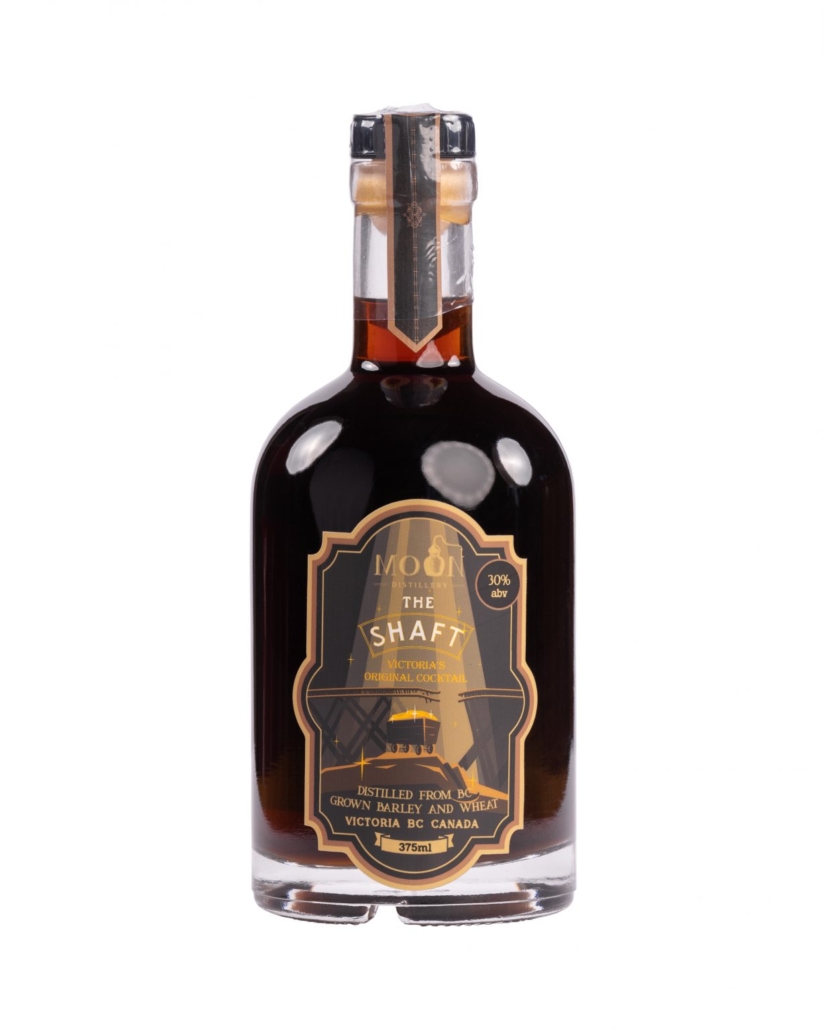 While there is some debate of its origin, the Shaft Cocktail is widely accepted as a Victoria-born beverage.  It's certainly something we're proud of here on the island, with just about every bar offering their own version.
Moon Distillery is the first Distillery to take the hugely popular shaft cocktail and package in into one bottle. This delicious cocktail is a mixture of blended Moon Espresso Vodka, fresh pulled espresso from local Oughtred Coffee, sugar, almonds, cocoa nibs, and Mexican vanilla. It's so good it even won Silver at the Canadian Artisan Spirit Competition!
This dairy-free cocktail is best served over ice with half & half cream, almond milk, or your favourite milk substitute option.
ABV: 30%
Why it Works with our Tahini Brownies & Cookies
Our baked tahini brownies and cookies are a special treat filled with flavour. They're plenty sweet, but they also have a touch of salt and spice. Clay from Moon Distillery explains why this shaft cocktail goes so well with sweet desserts like these. He says that unless you're ready to go to bed, you'll need something to pick you up after dessert. That's where the shaft comes in.
The Shaft Cocktail provides plenty of its own sweetness from the cocoa nibs and almond flavours. And the espresso provides a nice extra punch – the sweetness mixed with espresso is heavenly. Plus, the rich tahini flavour from the desserts mixes really well with the sweetness of the shaft, and the espresso will keep you going into the night.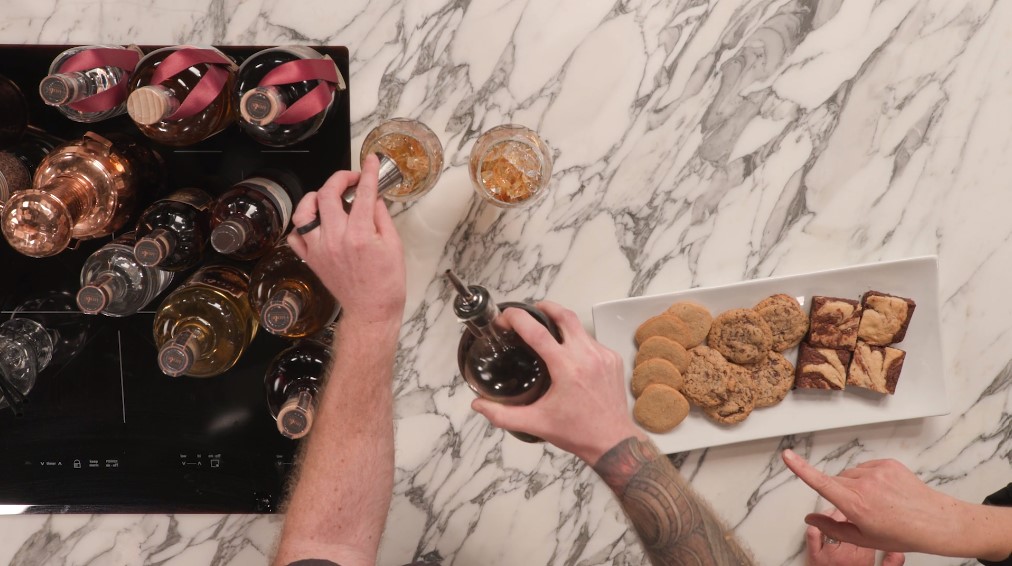 How to Pair Desserts
Finding the right drink pairing for a dessert is extremely rewarding, and can help top off the perfect after-dinner treat. Typical desserts are full of sweet flavours, so by adding a delicious liquor pairing, you just might create a match approved in heaven.
The level of sweetness in the dessert is a great place to start when looking for a beverage pairing. As a general rule of thumb, it's best for the drink to be at least slightly sweeter than the dessert itself. If a choose a drink that isn't sweet enough, the flavours from the dessert will overpower it and make the drink seem a little bitter.
Here are some classic dessert/alcohol pairings to try out:
Sweet white wine with crème brûlée
Apple pie and prosecco
Sweet berry wines with a dark chocolate dessert
Apple cider with a pumpkin flavoured dessert
This Week's Partner: Moon Distillery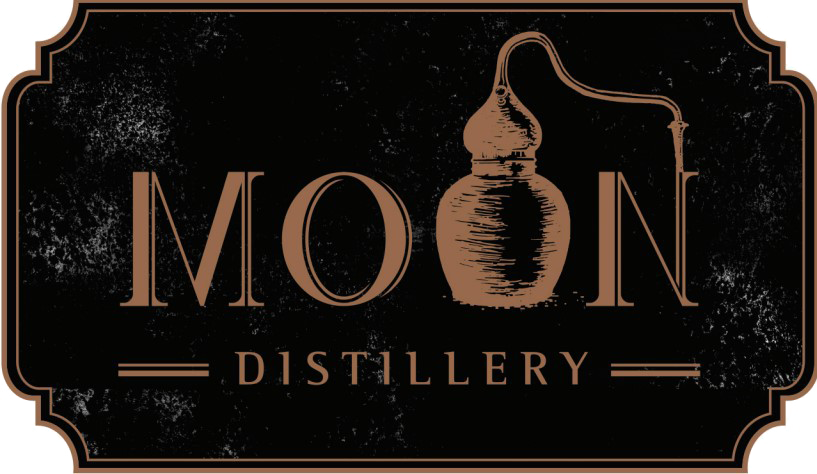 Moon Distillery crafts delicious craft spirits and offers that an accessible price. And for all their creations, they use ingredients sourced and produced right here on Vancouver Island.
Moon Distillery offer a complete line of spirits including our featured Shaft Cocktail, along with gins, vodkas and whiskies. Everything can be purchased directly from their website.
Moon Distillery is also home to a complete food menu with burgers, fish & chips, salads, and appetizers like wings, nachos, cauliflower bites, and much more. Plus, you can enjoy it all from either the lounge or their large outdoor patio!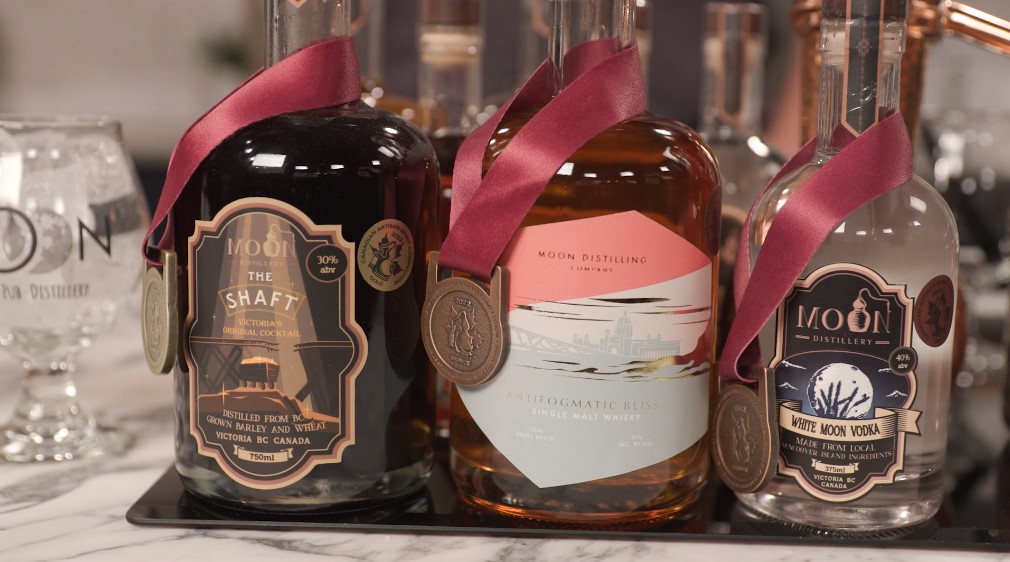 To learn more about Moon Distillery and their creations, check out their website: Moon Distillery.
Liquor Plus Sponsors Cookin' on the Coast
Each week, Liquor Plus partners with CHEK and Country Grocer to produce Cookin' on the Coast, which features unique food and drink pairings offered by BC suppliers. All of the beverages featured on this program can be found in Liquor Plus stores across Vancouver Island.