Unsworth Vineyards proves that formal doesn't mean without fun.
Granted, wine can be anything you like. But it's darn tough not to crack a grin at the thought of pairing Unsworth's Charme de l'île Rosé with fun foods like chocolate, creamy risotto or even potato chips. Yes, you can pair chips with wine, really.
Charme de l'île is that versatile – and this week on Cookin' On the Coast, we learn more about sparkling wine, how it's different than champagne, and the many ways it makes wine a sparkling good time.
Cookin' On The Coast Episode #11: Unsworth Vineyards
This week we look at Unsworth Vineyards – a winery that does a variety of prosecco-style sparkling whites and rosé wines, including Charme de l'île, which is a sparkling rosé based on Pinot Noir.
Like Blue Grouse Winery, Unsworth Vineyards is based in the Cowichan Valley, and like the former, it benefits from the unique Mediterranean-style microclimate of warm to hot summers preceded by mild, wet winters in this beloved region.
That's where Unsworth's Charme de l'île Rosé comes from. It's a sparkling rosé that's dry on the palate and has aromas of raspberries and cranberry – with bubbles thrown in for good measure.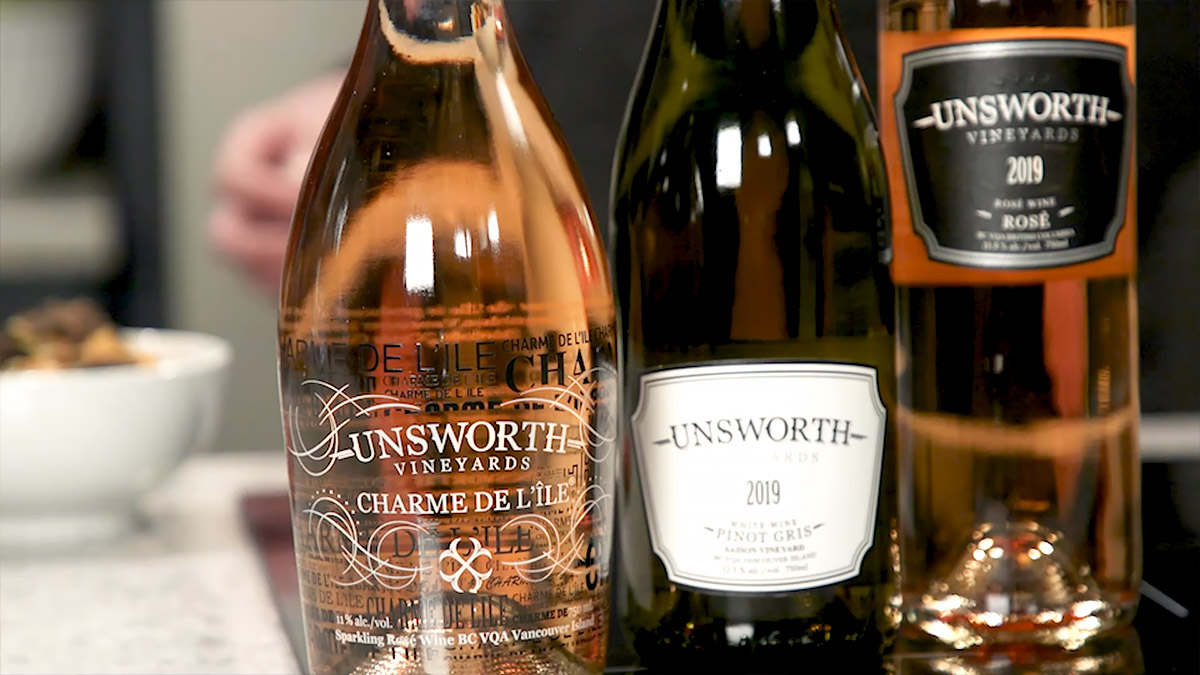 Look closer at Charme de l'île and we find:
It's dry
It's smooth
It's bubbly
It's tangy
It has aromas of raspberry and cranberry
In other words, it's your classic sparkling rosé wine, made with the love and passion of the Cowichan Valley.
What's the Difference Between Sparkling Wine, Champagne and Prosecco?
There are several differences between sparkling wine, champagne and prosecco, but three of the most notable are location, grapes and how they're made.
You're probably aware that champagne is made in the Champagne region in northeastern France. It's made with either chardonnay, pinot noir and/or meunier.
Prosecco is Italian, from the Veneto region, and made with a grape called glera.
The term 'sparkling wine' is a broad term that applies to any wine with bubbles. Both prosecco and champagne are sparkling wines, but not all sparking wines are prosecco or champagne. The former is made with the Charmat method, in which a large body of wine goes through a second fermentation (rather than in the bottle). With the Champagne method, this second fermentation takes place in the bottle itself.
How to Pair Charme de l'île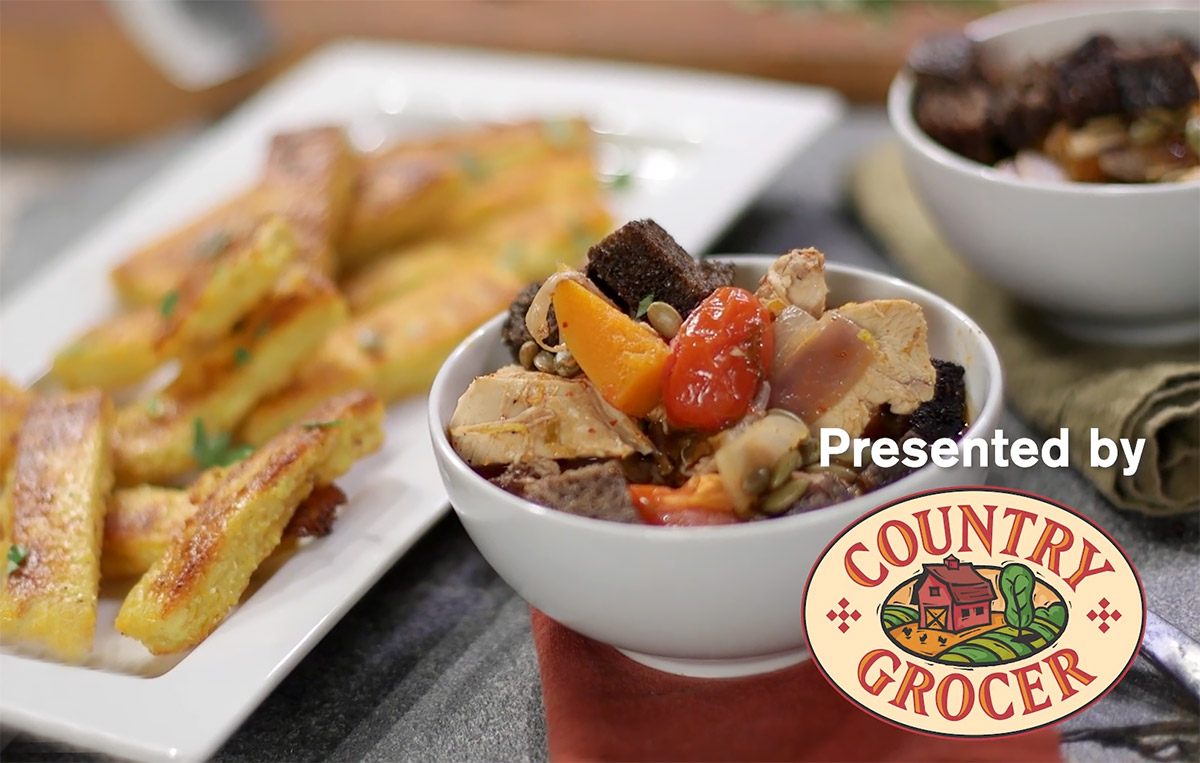 Charme de l'île is a sparkling rosé wine. It's extremely versatile and will work with many foods. With that said, we get it – you tend to think of sparkling wines as a celebration or dessert beverage.
You can certainly pair Charme de l'île with cake, chocolate, risotto or cheese. But you can also pair it with chips, barbecue, chicken, pizza, raw meat, red meat, oily fish, shellfish, or, as Chef Mike did this week, kimchi chicken and squash soup.
Do you see a pattern here? Neither do we. Experiment with Charme de l'île. You may be surprised to learn that sparkling wines pair with many, dare we say, most foods. It's an easy way to ramp up the fun factor, no matter what appears on your plate.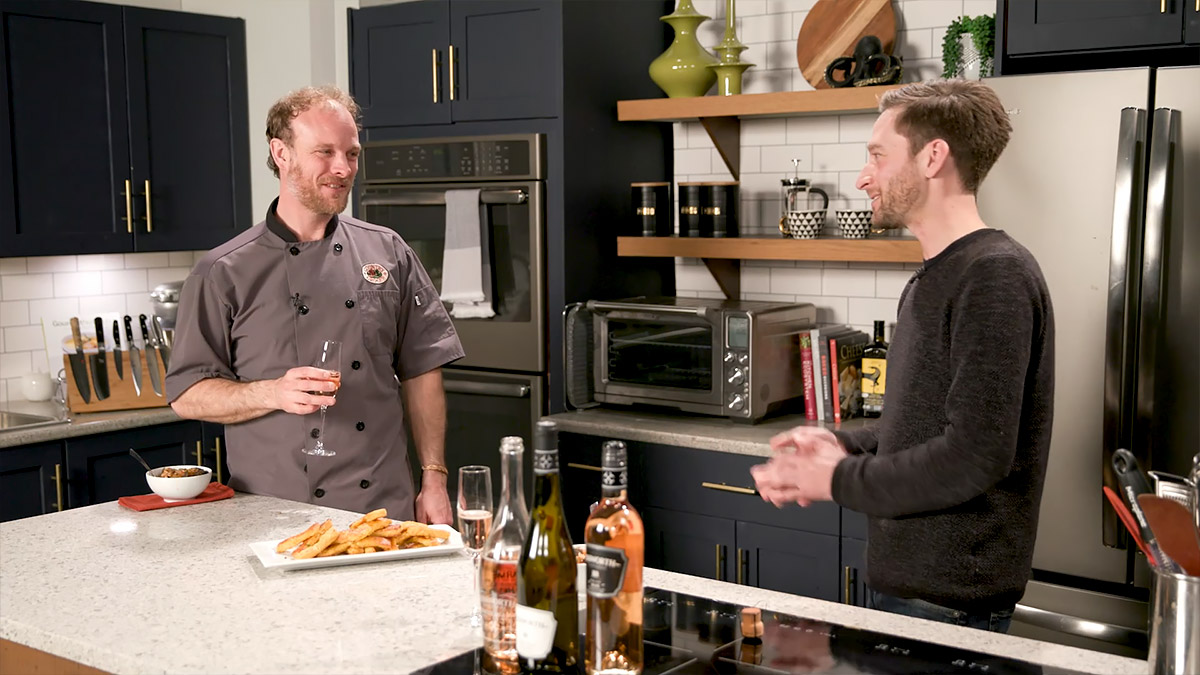 This Week's Partner: Unsworth Vineyards
Unsworth Vineyards is a family-built winery in Mill Bay that makes a variety of whites, reds, and sparkling wines that delight the palate. Owned and managed by the Turyk family, the word "charm" clearly applies here. It operates a tasting room and seasonal farm-to-table restaurant where patrons can learn more about its many wines and the terroir of the soil, water, air and love of the Cowichan Valley on beautiful Vancouver Island.
Be sure to take a peek at Unsworth's Wine Club too!
Liquor Plus Sponsors Cookin' on the Coast
Each week, Liquor Plus partners with CHEK and Country Grocer to produce Cookin' on the Coast, which features unique food and drink pairings offered by BC suppliers. All of the beverages featured on this program can be found in Liquor Plus stores and online at liquorplus.ca.