Poseidon Pale Ale and pizza go together like marble and Michelangelo. But it's lighter, less bitter and doesn't have the 6%+ alcohol content than you'd get with an India Pale Ale.
Does that make it less of a beer? Not even remotely. Poseidon Pale Ale is a hoppy beer – they share that characteristic. But an IPA is a strong beverage and not everyone's cup of tea. Poseidon Pale Ale, with its hoppy, yet less punchy taste and lower alcohol, hits that middle ground, and makes a great pairing with pizza at that.
In this week's episode of Cookin' On The Coast, we join Chef Mike and Lighthouse Brewing's Darren Gano to sample Poseidon Pale Ale, and what it brings to your dining experience.
Cookin' On The Coast Episode 10: Poseidon Pale Ale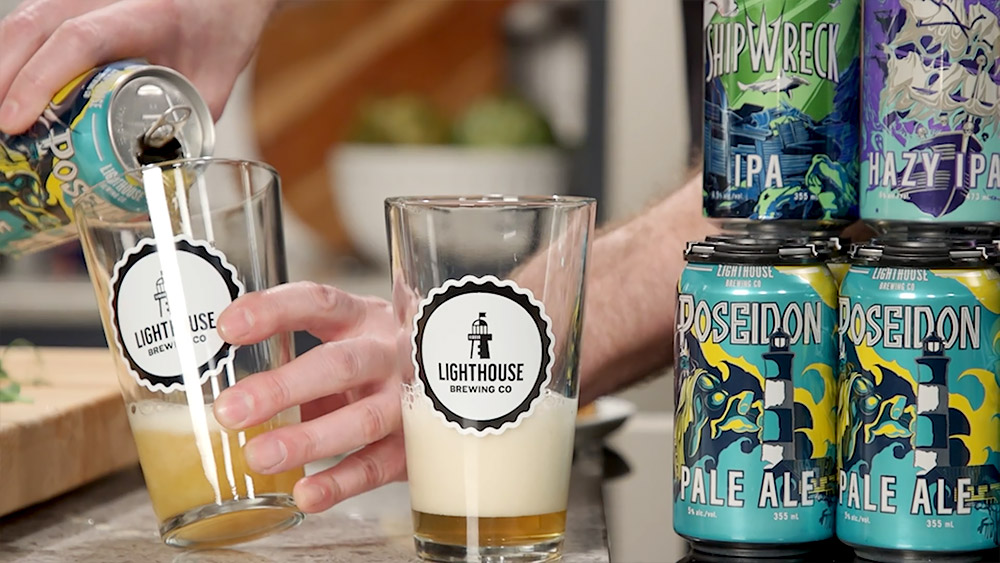 This week, we look at Poseidon Pale Ale – a hoppy, relatively bitter ale made by Esquimalt's Lighthouse Brewing.
We're not reaching when we call this a 'casual dining' beer. As Darren explains, it has many varieties of hops, and you know what that means. Yes, Poseidon is a hoppy beer, which means it goes very well with strong flavours, like burgers, tacos, and it's so bad with pizza either.
When we look at Poseidon Pale Ale, we consider that:
It's hoppy
It's bitter
It has citrus notes
It's 5% alcohol
The latter point makes Poseidon a good option if you're looking for a bitter beer that won't punish your blood alcohol level. It's a hoppy beer, but it's not over-bearing. Poseidon Pale Ale gets your feet wet rather than diving in head-first.
What's The Difference Between Pale Ale and India Pale Ale?
Want the quick version? Pale Ale is a toned-down IPA.
Pale Ales are brewed mostly with pale malts and have a more even malt-to-hop ratio. It ferments in warm conditions too, typically between 59 and 69 degrees Fahrenheit, and is usually lighter in colour than its IPA cousin.
IPA stands for 'India Pale Ale'. That's a stronger beer, with more bitterness, a hoppier taste, and higher alcohol content. We need only look at West Coast IPA, with its 7% ABV (alcohol by volume), to see this in action. And while IPAs can be an acquired taste, few beers pair as well with strong flavours quite like an India Pale Ale – or cleanse your palate between courses quite like an IPA does.
How to Pair a Pale Ale
Poseidon is a Pale Ale. It's not quite in IPA territory, but it's getting there. This makes it a great option for folks who want a hoppy beer that's bitter and can complement a heavy meal with strong flavours. Pizza works great. But you can also pair Poseidon with tacos, burgers, meat pies and cheddar cheese, among other options.
Go ahead and layer on some spices too. A Pale Ale like Poseidon can handle strong flavours like cumin, jalapeno and cilantro.
While not as strong as an IPA, they share a similar DNA, and Poseidon has the chops to handle most of the same foods you might link with an India Pale Ale.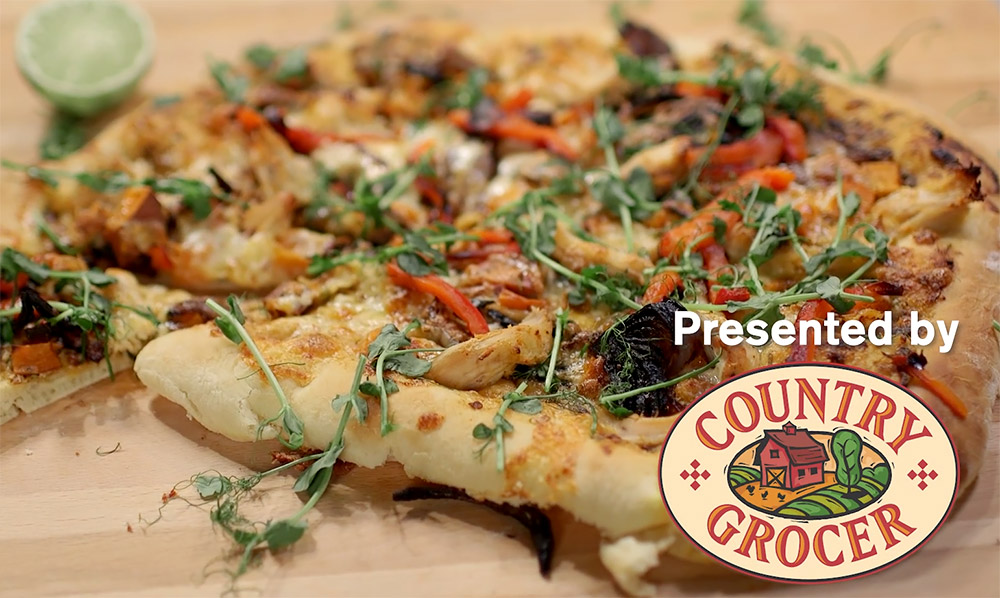 Featured Partner: Lighthouse Brewing
Spend any time in a pub within the Greater Victoria and you'll eventually hear the name Lighthouse Brewing. Founded in 1998 and based in Esquimalt, Lighthouse was one of the first craft breweries in the city, and with names like Poseidon, Lighthouse Lager, Shipwreck IPA and Nightwatch Coffee Lager Bomber, you can't miss the marine-inspired passion in its products.
Be sure to stop by Lighthouse's tasting room at 2-836 Devonshire Road the next time you're in Esquimalt and want to sample what makes this craft brewery such a local icon!
Liquor Plus Sponsors Cookin' on the Coast
Each week, Liquor Plus partners with CHEK and Country Grocer to produce Cookin' on the Coast, which features unique food and drink pairings offered by BC suppliers. All of the beverages featured on this program can be found in Liquor Plus stores and online at liquorplus.ca.