Use Our Drinks Quantity Calculator to Plan the Perfect Party
People always remember a fun, well-planned party. But if you're in charge of hosting said party, the day (and days leading up to) can be filled with anxiety. After all, it's your responsibility to make sure people have fun, have something delicious to eat and drink, and have a safe way home at the end of the night.
If you're planning to host a party anytime soon, this article is for you. We'll break down everything you'll need from your local liquor store, plus other things you'll need to stock up on and consider for the big day.
Planning Your Party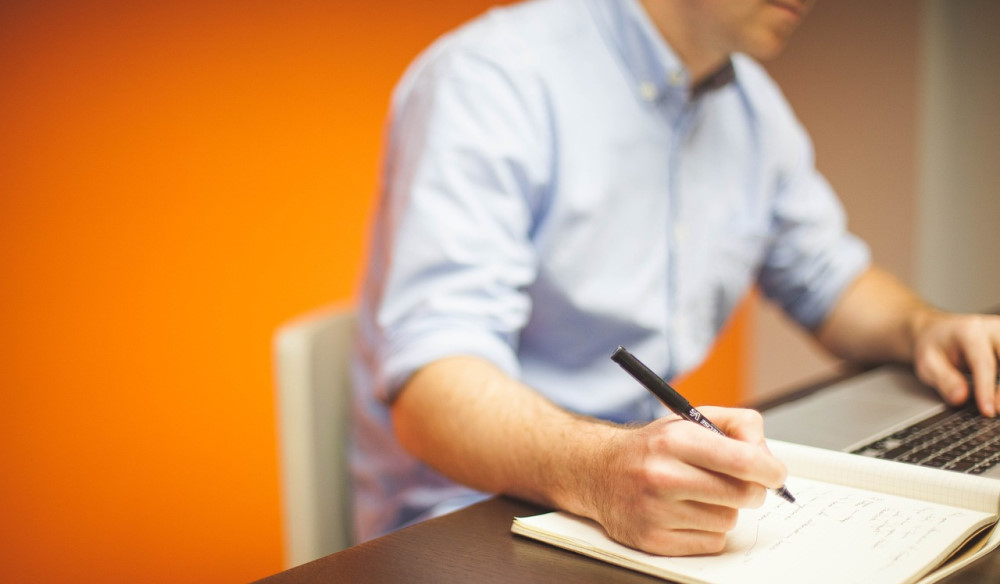 Without a proper plan, your party will be doomed for disaster. But with a plan in place, you can ensure you've picked up the right amount of supplies for the right number of people, that everyone has fun and arrives safely back home.
It all starts with your guest list. This will be your starting point and for all party purchasing prep. How many people have you invited, how many are actually coming, and how many are bringing a plus one? It's crucial to nail down the numbers for later in the planning process.
After you've determined how many people will be attending your party, you may want to draw up a budget. The budget will have a certain impact on the kinds of supplies you choose at the liquor store and other places. If you're trying to stick to a tight budget, maybe it's best to stick with beer and wine. But if you've got money to burn for this party, you've got the opportunity to spice it up with exciting cocktail options and catering.
That brings up the question of food – will you serve food, and if so, where will it come from? Getting your party catered is likely the ideal option, but typically the most expensive. If you've got a barbeque, there's a great option for cooking a lot at one time – given you have someone to man the grill. If you want to avoid serving food altogether, just plan your party for 7:30pm or later.
Alcohol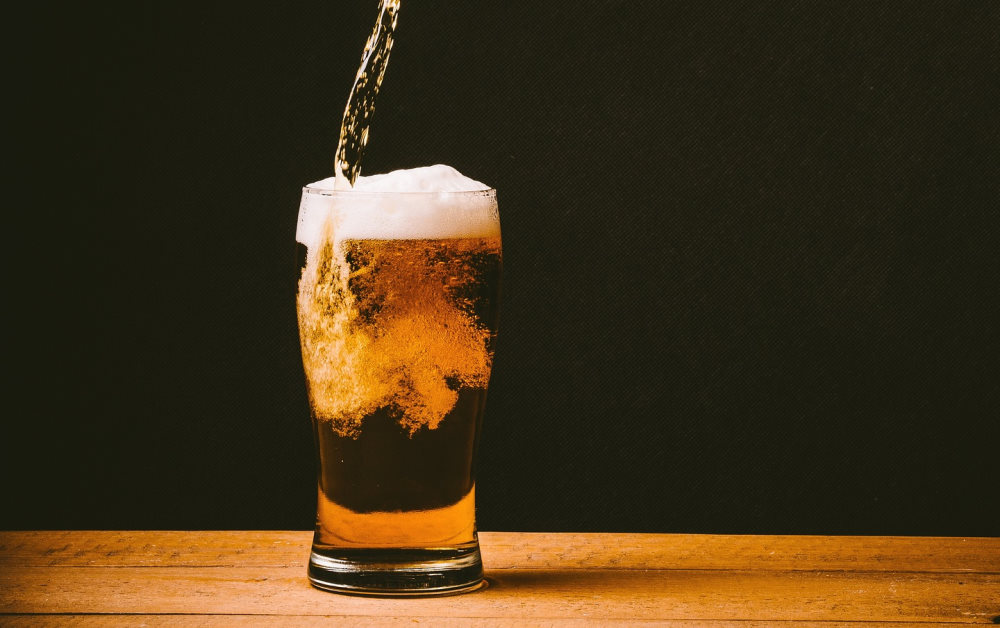 If you're choosing to serve alcohol at your party, this will likely be the most important piece of planning you have to do. Your options are nearly endless, so you'll want to keep your budget and guest list numbers in close consideration.
A standard 750ml bottle of alcohol contains 25 shots or about 12 double shots. If you plan on serving cocktails, you're going to want a solid list of options for guests. It's always a good idea to stock Gin, Vodka, Whiskey and Rum, but you may also want to consider buying special bitters, Vermouth and flavoured liqueurs.
A standard 750ml bottle of wine yields 5-6 glasses, depending on the weight of your pour. At the most basic level, make sure you've got some red and white options. If you've got some particularly wine-fascinated individuals attending your party, you may want to dig a little deeper to find some different varieties based off the grape and the country.
Then there's beer, which is generally pretty straightforward for regular sized cans and bottles. If you don't know where to start, choosing something with easy drinking qualities like Lager or Pilsner is a safe bet. If craft beer lovers will be in attendance, hunt down something local and maybe turn up the hops with an IPA selection.
The Drinks Quantity Calculator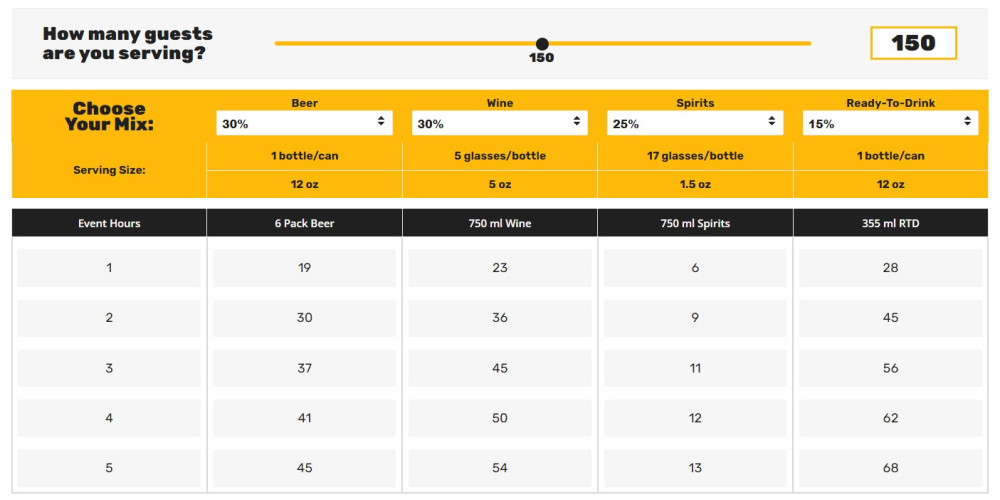 Once you've decided on the types of alcohol you're going to stock, it's time to think about just how much you're going to need of everything. That's where our Drinks Quantity Calculator comes in. The Drinks Quantity Calculator is a free, custom-built tool that lives on our website, designed to help you plan and host better parties. Here's how it works:
You start by using the slider at the top of the calculator to select the number of guests you'll be entertaining, from 1 to 300. If you're expecting more than 300 people, we'll be praying for you, and you'll have to do a little math on your end to get the proportions right.
You'll then see that you have four options: Beer, wine, hard spirits and ready-to-drink. Using the mini drop-downs under alcohol type, choose what percentage you'd like of each at your party. If you don't plan on stocking any spirits or other type, simply set that selection to 0%.
Once you've decided on the types of alcohol you'd like to have at your party, the calculator will spit out a table of numbers. In the columns, the table indicates just how many bottles of wine, bottles of spirits, 6-packs and ready-to-drink options you'll need to buy. You'll also notice the 'event hours' column, which adjusts your totals for the number of hours you expect people to hang around for.
Other Considerations
Now that the alcohol has been sorted out, there are a few other considerations you should be making as the party host. Regardless if people are drinking or not, you're going to need some non-alcoholic options. A 2L bottle of pop is enough for about 20 mixed drinks. But you don't want to leave out the people who don't drink or who are choosing not to drink. For them, be sure to grab a selection of ready-to-drink mocktails, lemonades and sparkling beverages. You should always make sure there's plenty of water on hand as well.
Ice is another essential part of any party. Whether people are drinking alcohol or not, having cubed ice ready to go is an ultra nice-to-have. If you can, buy big bags of pre-cubed ice from your local grocery store or liquor store, and get yourself an ice bucket that can be refilled when necessary.
If you want to take your bar service to the next level, considering picking up some garnishes. These can really tie a cocktail together, or provide a splash of decoration depending on the theme of your party. Citrus is a great place to start. Oranges, lemons and limes can be wedged, zested and peeled for garnish, and even juiced into drinks. You can use salt and sugar from your pantry to decorate the rims of glassware. And if you want to go a little fancier, you can also pickup special garnishes like Maraschino cherries or olives.
Closing it Down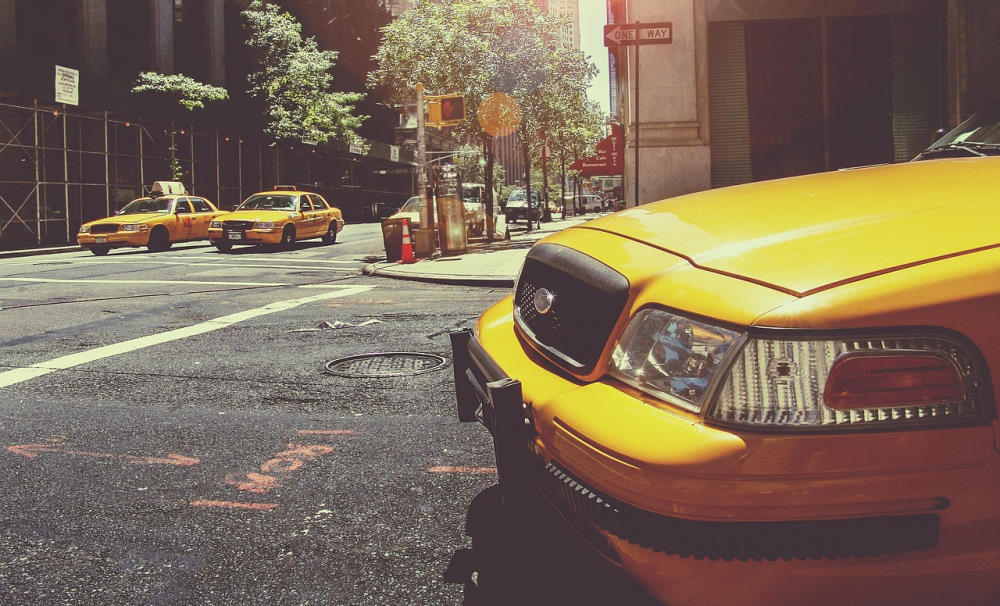 As the party host, you also have the very important responsibility of ensuring everyone arrives home safely or finds somewhere to sleep – as long as they aren't drinking and driving. Much of this legwork can be done in advance, helping people arrange pickups and designated drivers. You can also arrange for a fleet of taxis to come by your place at the time of your choosing. With a closing time set well in advance, this preparation can be made much easier, and people can arrange for their own transportation.
If you're getting ready to host a party in the near future, be sure to stop by your local Liquor Plus for all your party essentials. Aside from extensive selections of beer, wine and spirits, they've also got non-alcoholic options, cocktail garnishes and more at each location. But before you come, be sure to use our Drinks Quantity Calculator to take the guesswork out of the process!