Cookin' on the Coast 2023 – Episode 1:
Zanatta Damasco with Somewhere Over the Rainbow Peanut Noodle Salad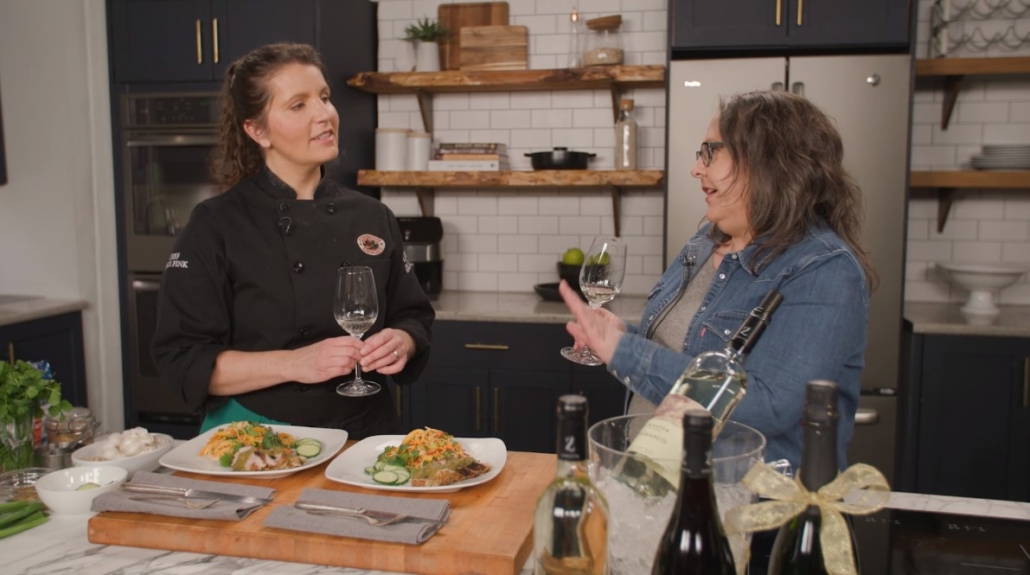 Cookin' on the Coast is back! As it starts feeling more like fall everyday, it's that time of year to start sharing some delicious recipes and pairings for your cozy nights at home.
Chef Heidi Fink is also back for another season of Cookin' on the Coast. Chef Heidi is a Red Seal Chef and an award-winning cooking instructor who's been teaching Victoria residents how to cook since 1999. Along with her approachable teaching style, her gourmet recipes are well-known as fresh, delicious and easy to follow.
In the first episode of 2023, Chef Heidi will be showing us how to make Somewhere Over the Rainbow Peanut Noodle Salad. Joining her is Sheila Bailes from Zanatta Winery.
Shelia has brought a white wine called Damasco from Zanatta Winery for pairing with the peanut noodle salad. More details on the pairing are found below.
Head to a Liquor Plus liquor store near you to pickup this delicious, best-selling white wine of Vancouver Island.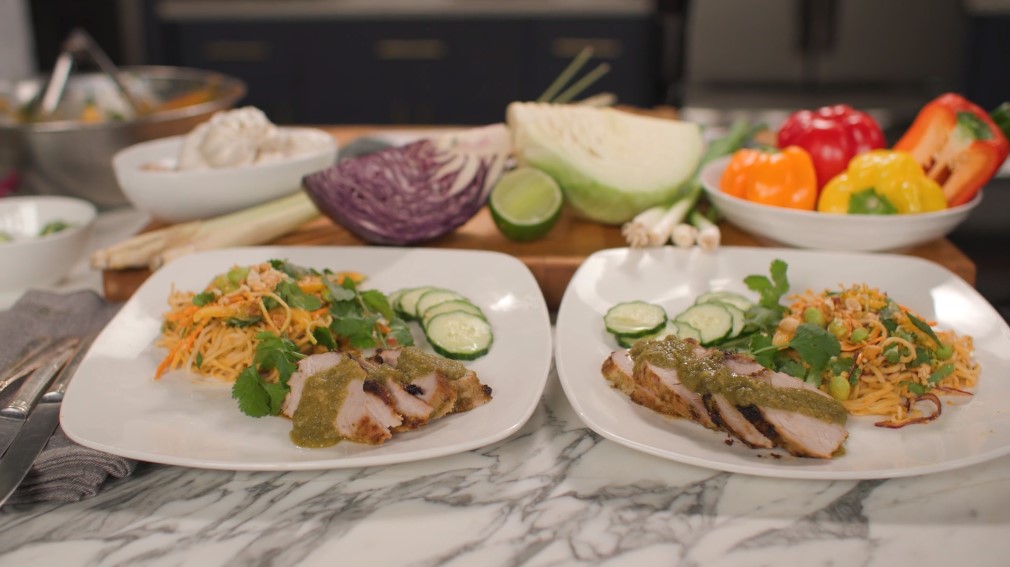 Together with Chef Heidi and Sheila from Zanatta Winery, you will learn how to cook this delicious peanut noodle salad, along with how this best-selling Damasco from the Cowichan Valley pairs so nicely with the dish. The show includes tips for pairing white wine, the history of Zanatta Winery, and more.
Grab the recipes and ingredients right here:
Featured Beverage: Damasco from Zanatta
Winery
For this episode, to pair with the peanut noodle salad, is Zanatta Winery's signature white wine – the best-selling white wine in the Cowichan Valley, Damasco. Crafted with estate-grown Ortega, Muscat, Auxerrois and Madeleine Sylvaner grapes, this wine is filled with notes of fruit.
Region: Cowichan Valley, Vancouver Island
Price: $23.99/bottle
ABV: 12%
Why it Works with Peanut Noodle Salad
The white wine called Damasco from Vancouver Island's own Zanatta Wines is an excellent pairing with Chef Heidi's Peanut Noodle Salad.
Damasco provides a unique tickling on the tongue with a little bit of tannins, and the four different grape varieties each bring their own characteristics to the wine. The Ortega grape supplies the acidity and plenty of aromas, which pairs beautifully with the big, bold flavours in the Thai-style peanut noodle salad.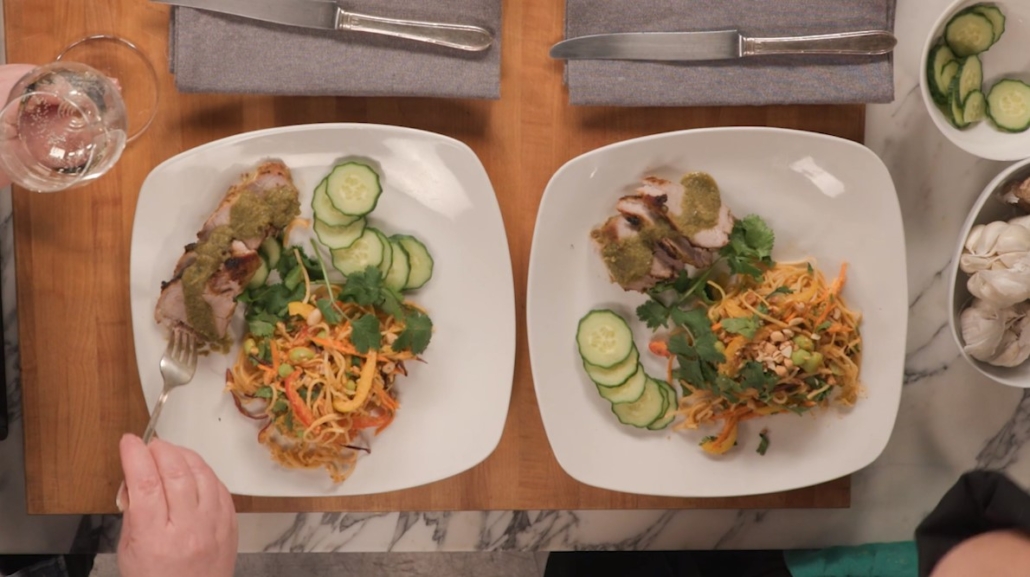 White Wine Pairing Tips
The Damasco from Zanatta Winery is unique, thanks to its tannins and combination of four different grapes. But even still, there are some basic guidelines you can follow when trying to pair a meal with a bottle of white wine.
In general, white wines pair better with meat that is less intense and less fatty. And because white wine is typically more acidic than red, it pairs better with food that is also slightly acidic. Here are some classic pairings with a white wine:
Roasted pork
Lobster
Thai-style curry
Oysters
Antipasto platter
Fruity dessert
This Week's Partner: Zanatta Winery

Immigrating to Canada from Italy in the 1950's, the Zanatta family holds title of "First Family of Vancouver Island Wine", making Zanatta the oldest commercial winery the Island. Shortly after a successful grape testing experiment in collaboration with the provincial government from '81-'86, what started as a hobby slowly grew into a thriving family business.
Fast forward to today, Zanatta focuses on bringing out as much regional flavour as possible in the wines they make, only vinifying grapes from their own vineyard. The Vancouver Island fruit is earthy, rich and full developed, thanks to Vancouver Island's unique climate and extended growing season.
Learn more about Zanatta's history, wines and more: Zanatta Winery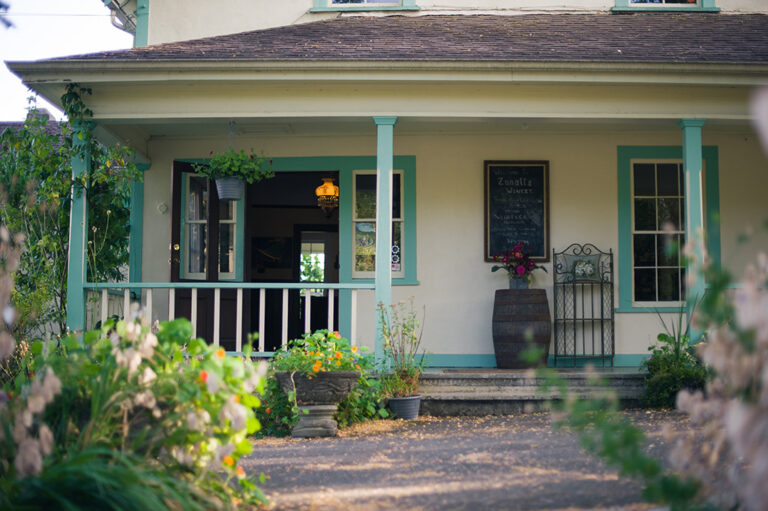 Liquor Plus Sponsors Cookin' on the Coast
Each week, Liquor Plus sponsors the Pairings segment of Cookin' on the Coast on CHEK. The show features unique food and drink pairings offered by BC suppliers, with recipes created by Chef Heidi Fink and sponsored by Country Grocer. All of the beverages featured on the program can be found in Liquor Plus stores across Vancouver Island.